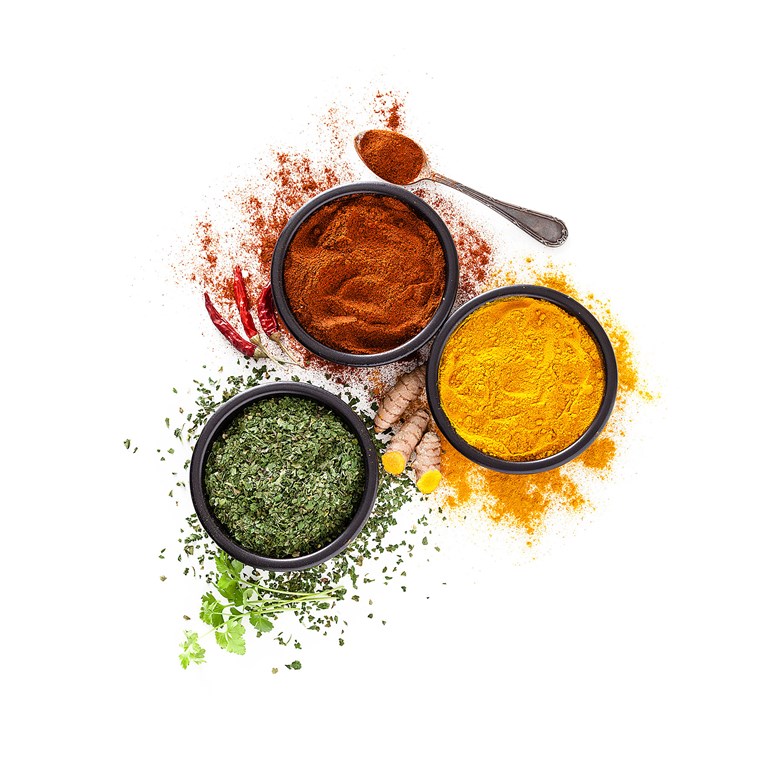 Mesolcina, the route of spices
Innovating can also mean taking tradition and making it known to those who do not know it. Because what is familiar in some places may be exotic in others. Curiosity and the desire to experiment are, after all, at the basis of every new growth path. So it happens that in Grono, a small town in the Moesano, in the Italian Grisons, amidst Alpine panoramas, one can enjoy dishes coloured by the spices of the Orient. Add to this the fact that the Indian restaurant has found a place in the village's historic hotel, and the desire to know more increases. To do so, we interviewed Ghasi Lal Khanna. He left India almost 30 years ago and has since toured Switzerland and its restaurants, discovering the secrets of hospitality.
Where are you originally from and when did you arrive in Switzerland?
"I am originally from North India, from Rajasthan. When I was 26, in 1995, I came to Europe. In Switzerland I worked as a waiter and in catering in about ten cantons. By now I know not only the languages but almost all the dialects. Five years ago I had the opportunity to work in an Indian restaurant beyond the Gotthard and I thought that Italian Switzerland lacked this offer."
A restaurant that only offers Indian cuisine?
"Yes, some restaurants do fusion cuisine, you can also find some Indian-inspired dishes there, but it is not the same."
Why?
"Because it is Indian cuisine as a whole that is healthy. Our cuisine uses the same spices that are used in traditional Ayurvedic medicine. That is why it is very balanced and has no side effects."
What are the main dishes?
"First of all, it should be pointed out that we offer North Indian cuisine."
What is the difference?
"In the North we accompany our food with chapati, a bread made of wholemeal flour. In the South and East, we eat more rice and fish."
Is it a vegetarian cuisine?
"Not totally, but basically Indian cuisine is. Eighty per cent of the population is Hindu, of which 60 per cent are vegetarians."
What meat is cooked?
"Goat and lamb mostly, chicken to a lesser extent. Buffalo is eaten by Muslims."
Is Indian cuisine a street food?
"Until a few years ago, there was no culture of going to restaurants for dinner. You only went to restaurants if one was travelling, if one was going to another city. In recent years, people have also begun to appreciate going out to dinner in the places where they live to try new culinary novelties."
Who do you have at the cooker?
"We have a professional chef from India who has been a chef in Europe for several years. He was in Switzerland for a long time, then he started a family in Portugal and now he is here with us. Having a professional chef is important, it is not enough to be Indian to know how to cook Indian."
Do the Swiss appreciate the flavours of Indian cuisine?
"I usually start by proposing appetisers like onion bhaji, pancakes made of chickpea flour and onion, which I Italianise as 'onions'. When I mention onions everyone thinks they are heavy, I say try them and they are never disappointed. We serve them with tamarind sauce, yoghurt and mint."
Are there some false myths about Indian cuisine?
"Curry does not exist here, in the sense that curry is a mixture of spices and each family or restaurant has its own combination. We also have our own, we get our spices directly from India. Also, many people think our cuisine is spicy, instead it is savoury, those who overdo the chilli do not know the real Indian cuisine. Finally, we dine on water. Some restaurants offer yoghurt and mango shakes with spices. With us it is instead a digestive drink, for after the meal, otherwise you risk becoming heavy and covering up the flavours."
Cumin
Its seeds are similar to those of fennel. Apart from being useful for flavouring dishes, cumin is believed to aid digestion and has anti-inflammatory activity. It is rich in iron and antioxidants.
Coriander
Both the leaves of coriander, which are spicier and more popular in the East, and the fruits, which are pepper-like, yellow grains with a sweetish flavour reminiscent of lemons, are used.
It is believed to be a good natural remedy for abdominal colic, digestive difficulties and bloating.
Turmeric
The spice is obtained from the roots of the plant, which are boiled, then dried and finally crushed to a yellow ochre powder. 
The plant has always been known for its purifying, bile-stimulating and fluidifying action. Recent studies have found that curcumin can block the action of an enzyme believed to be responsible for the development of several types of cancer. It also has an anti-inflammatory and analgesic action. It is a powerful antioxidant and also has a healing effect.
Ghasi Lal Khanna
Year of birth: 1969
Profession: restaurant manager
Originally from the Indian state of Rajasthan, in the north of India. In 1995 he moved to Switzerland. He currently lives in Locarno, but has worked in the restaurant industry in a dozen cantons. At the Hotel Calancasca, he has opted for a cuisine entirely inspired by the culinary tradition of India.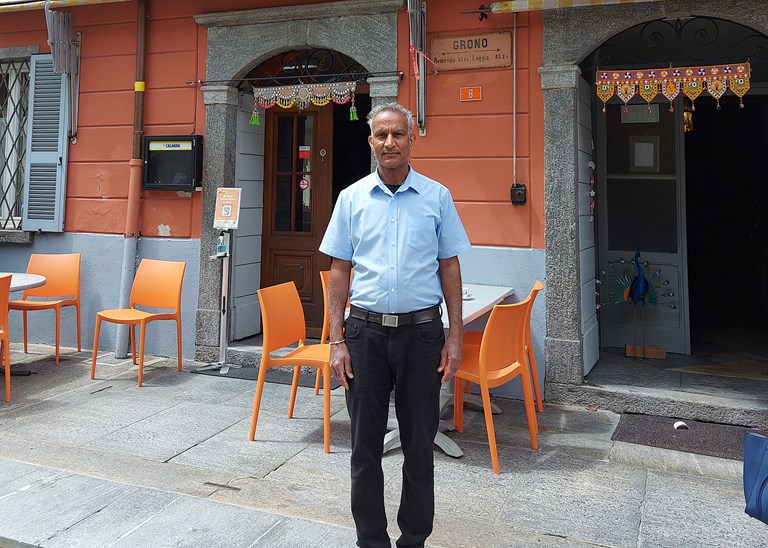 Onion Bhaji (onion pancakes/ fritters)
Ingredients
120 g chickpea flour
2 onions (large, sliced) 
1 teaspoon coriander 
1/2 teaspoon turmeric
1 tsp cumin
1 or 2 teaspoons chilli powder (or a few chopped green chillies) 
to taste water according to the density of the mixture
to taste salt and pepper
to taste oil (for frying) 
Preparation
Place the sifted chickpea flour in a bowl, together with the onions and spices, season with salt, pepper and stir, then leave to stand for 20 minutes. After this time, squeeze the onions to release the water. This liquid is usually sufficient. However, if you think the batter is too dry, add a teaspoon of water at a time and mix with your hands until the batter is blended with the onions.
Heat the oil in a large pan and fry the mixture in small amounts at a time, it will take about 3 to 4 minutes to get the fritters nicely golden and crispy. Enjoy them hot.