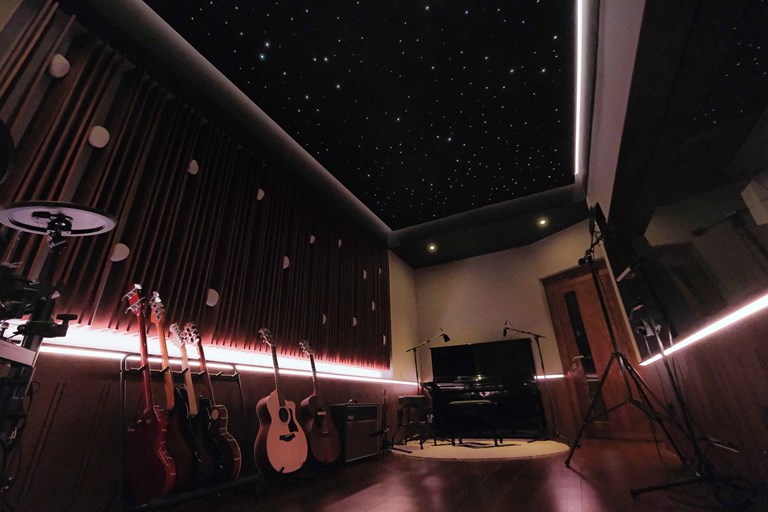 Where do the songs and soundtracks of our days come from? The answer is quite simple: in the recording studios. But how do these last ones come about? Is it enough to put some instruments, consoles and other electronic equipment inside a room?
To explain why it is not enough and it takes instead a science - acoustics - and a designer, that makes it human and cut on the artist's stamp, is Dario Paini, who has worked in his professional career to realize studies of some of the most famous artists of Italian music and not only.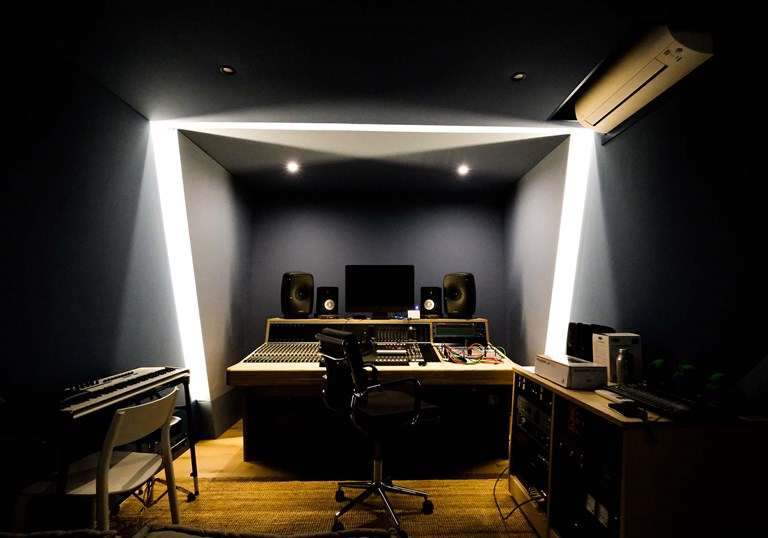 Today the focus on the sustainability of buildings is mainly on the energy efficiency of the enclosures, but the acoustic quality of an environment is as important as heat or light.
Paini, you have been involved in the creation of recording studios of important authors, from Ramazzotti to Fedez, from Dardust to Jovanotti, from Charlie Charles to Marco Mengoni and Rocco Hunt, and famous labels such as Warner and RCA, Radio and TV such as ORF, RDS, but also theatres and concert halls, what are the differences in design approach?
"When I work for an artist I usually deal with everything that can be heard, seen and touched: acoustics, aesthetics and light. Then of course there are the other competent ones that deal with audio wiring, electrical design, air and construction of the building. Over the years I have built up a fantastic team of competent and beautiful people."
I make sartorial work and I always love to vary to offer a unique product that reflects the personality of the artist, able to make him find the ideal environment for the research and creation of a certain type of sound. Not only acoustics in the strict sense, but also colours, shapes, materials.
A nice studio that sounds good, sounds better than an ugly studio that sounds good! 
For a concert hall you need to think about artists but also the public, you need to work in teams with other professionals and think of something that is appreciated, even aesthetically, by most people."
Has musical perception as a set of sensory factors, in technical synaesthesia jargon, always fascinated you?
"Yes. In 2005 for my doctoral thesis at the University of Denmark, I dealt with the acoustics of open spaces ("agorà acoustics"). Not only from a technical point of view, but also from an aesthetic point of view. It can happen that, even if the acoustics of the square is not perfect, the historical-architectural charm can still give the audience a high aesthetic pleasure for a concert. Playing in a beautiful place also makes our musical experience better."
You can't just hear with your ear... Let's take a step back, how do you become an acoustic designer?
"I got there on my own. I graduated from the Politecnico di Milano in Management Engineering over 20 years ago. After graduating and writing a thesis in acoustics, I went to work in an acoustic consulting studio in Varese (Concrete group) and in the meantime I attended the School of Acoustics at the University of Ferrara. And finally I did my PhD in Copenhagen. Subsequently, I started collaborating with IFEC as Head of Acoustics Sector Italy and in 2011 I became a freelancer specializing in recording rooms, theatres and concert halls."
You are also a musician; did this you help you in the profession?
"Definitely. I've always loved music. I play the saxophone and I have performed live since 1989 with Distretto 51 (band in which Roberto "Bobo" Maroni former Italian Interior Minister and former president of the Lombardy Region, who died in November 2022, ed). Playing has given me the opportunity to understand the needs and vocabulary of musicians, but playing and attending the environment helps me understand the artistic and psychological aspects behind some requests."
Sustainability is one of the issues at the heart of public debate. Is there an acoustic sustainability, an ecology of sound?
"Today the focus on the sustainability of buildings is mainly on the energy efficiency of the enclosures, but the acoustic quality of an environment is as important as heat or light. However, there is a lack of sound education and if there is no regulatory obligation, the aim is to save money. For example, restaurateurs understand only after the realization of the restaurant the importance of having a good acoustics: eating in the middle of the noise worsens the dining experience (and also the turnover!). There are many noises and sounds that we don't normally notice. For this, I bring the students of the IED of Milan, during the lessons of acoustics and soundscapes, around the city. I ask them to pay attention to everything they hear and discover sounds they usually don't realize, to learn to appreciate them all and to then figure out which ones are best checked for optimal acoustic comfort."
How do you design a recording studio?
"As far as the enclosure is concerned, there are mainly two technologies used; the dry one which consists of building a box in a box making it float on a floating floor, and the modular one, which involves the use of prefabricated soundproof cabins. Inside is then the acoustic treatment for the reverberation and the control of certain frequencies and we must also take care to attenuate the noise produced by the ventilation systems. 
Are special technological materials used for soundproofing?
"No. The materials are usually poor: polyester fiber, cloth, wood, even stones. Other more technological materials have higher costs without significant advantages."
Have you started a new business in Switzerland?
"Yes, in Grono, I started Flume Studio with engineer Sergio Tami. They knew us since IFEC and we are complementary. Sergio is able to better evaluate some design aspects; he has a crazy mind and an enviable synthesis ability. I am more attentive to design and other aspects. That's why we like working together."
What projects are you currently working on?
"As far as new recording studios are concerned, I have several projects "in the pot": that of the singer-songwriter Gatto Panceri and that of Michele Canova, the studio of Madame and that of Ultimo, the study of Salmo, in collaboration with Boxy, and I am fascinated by the one I am designing in Jamaica for Alborosie, one of the greatest contemporary reggae performers."
Projects in Canton Ticino?
"Yes, a very important one: that of the new RSI radio studios in Comano, in collaboration with IFEC Ingegneria. In this case I collaborate with the architecture studio CCRZ, but it is very interesting because there is a continuous comparison also with scenographers and directors, since a radio studio nowadays must also be evaluated with a television eye, because, from TV to the web, radio programs are also seen today."
One last question. He calls himself Noise Maker and Silent Seeker, noise producer and silence seeker. Why?
"I think it represents well, the ambivalence, and also the contradictions, of working in the field of acoustics within acoustics. Because, as Miles Davis said, real music is silence, and all the notes just frame silence."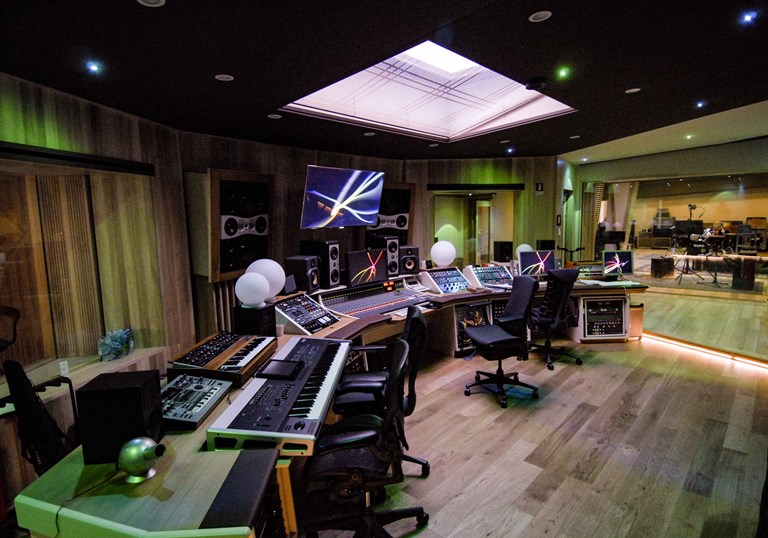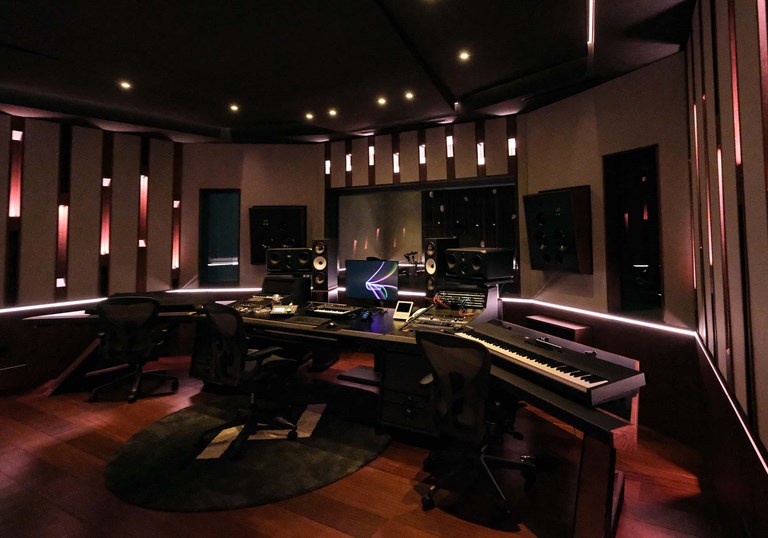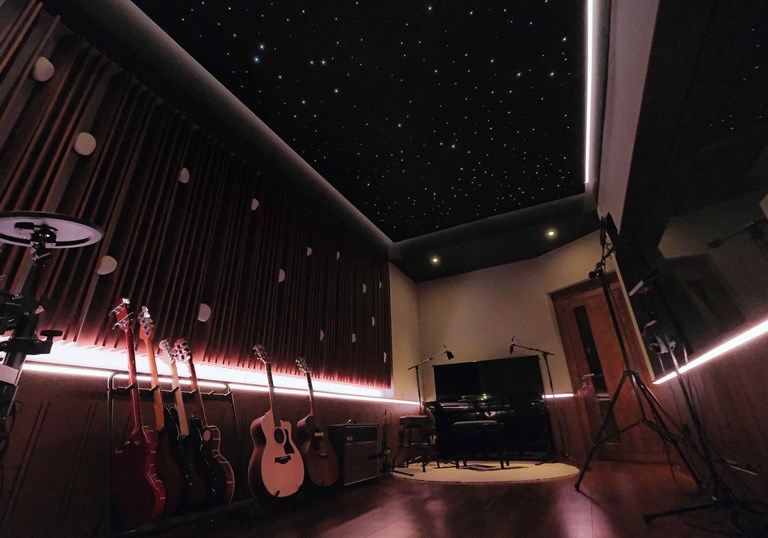 Because, as Miles Davis said, real music is silence, and all the notes just frame silence.
Dario Paini 
Year of birth: 1969
Profession: Acoustic designer
Born in Varese (I), after graduating in Management Engineering and after his PhD, in 1999 he is dedicated to consulting in the field. He collaborates with IFEC Engineering, and then dedicates himself to the freelance profession. He specializes in the design of recording studios (Ramazzotti, Fedez, Marco Mengoni, RCA, etc.) and concert halls. He is co-founder of Flume Studio in Grono (CH).
Flume Studio was born this year. Flume, as a channel made by man, that brings water, that is, ideas, projects, beautiful things, from one point from another.