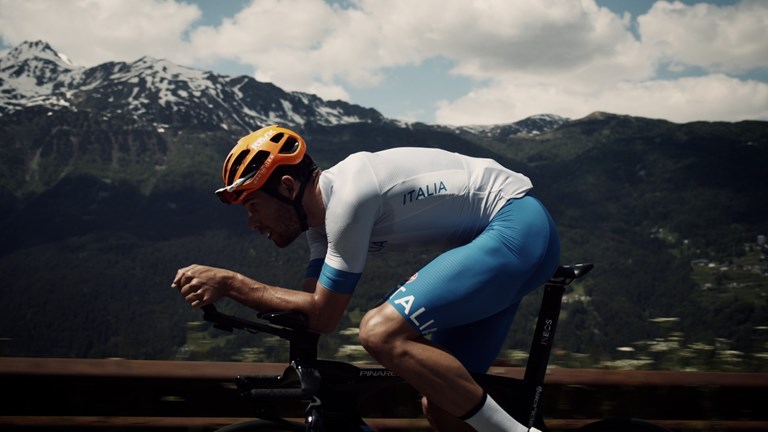 A saddle with five circles
2021 was a memorable year for Filippo Ganna. The Ineos Grenadiers cyclist was a gold medallist at the Olympic Games in the team pursuit and won his second consecutive world champion title in time trial on the road. A season of laurels completed by a gold and a silver to the Europeans on the road and a gold and a bronze to the World Championships on the track. Let's add two victories in the stages of the Giro d'Italia and here is a cyclist that, at 25 years old, has already written important pages in the history of contemporary cycling. 
The giant of Verbano - more than a meter and ninety tall - grew up in the hills above Verbania, but has now taken home in Canton Ticino. 
On the roads of Italian Switzerland - as he told us - he found excellent roads to train on and earn greater respect for cyclists behind the wheel. We interviewed him to understand how experiences in sport is a teacher of life and obliges one to mature and improve from their own limits, to be able to overcome them with the physical and - as he explained to us - especially with the mind.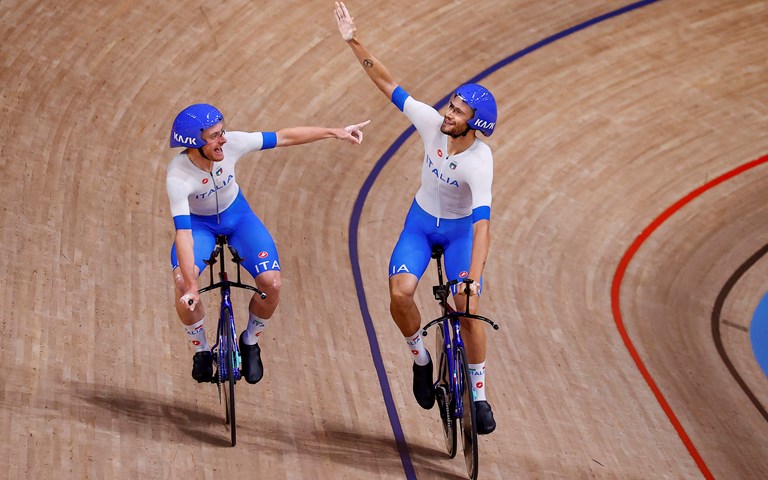 In a year, what do you think you might see looking at your trophy case? And in ten years?
"In a year I hope to have at least one yellow shirt in the drawer, to have at least had the opportunity to wear it. And then I would like to be able to emerge in two races that we will define me at the beginning of 2022 with the team. In ten years, instead I hope to have written a good piece of cycling history and inspire many young people who are passionate about cycling to follow in my footsteps."
Is it possible to make comparisons between contemporary cyclists and those of the past? If so, which one do you most resemble from a sporting point of view?
"The characteristics have changed a bit in recent years, it is difficult to make comparisons. There are no more pure-climbers, there is a mixture of those who go faster at chronometer, uphill, in sprint. So, if I have to confront myself, I don't go back more than ten years: Tom Boonen and the dear Fabian Cancellara. I return there." 
In track cycling, what percentages do physical, technical and character abilities count for?
"On track experience says the head is 100%. The body counts, but you have to have a lot of head and willingness to suffer." 
What are the experiences in sport and life that have taught you the most?
"The rule is always the same: reap what you sow. The more you commit, the more you dedicate yourself to doing what you love and what gives your life, the more the fruits emerge and show themselves. So yes, sport gives you experiences that become teachings in a very high percentage."
You look like a champion with great concentration but also great lightness, how did you find the right balance?
"The balance between mental lightness and concentration is not easy, it takes a few years, a bit of disappointment. If you are wrong it is because you are wrong to do something, to focus, to waste energy. There are many pros and cons to be evaluated every time. From such errors, however, you find the grit and above all the morale to go on, to overcome them and to go stronger." 
The life of a professional cyclist is for most of the year away from home. How can he keep in touch with family and friends?
"Yes, we professional cyclists stay a long time away from home and we need to talk to family and close friends often. It's a good thing that technology has met us with video calls and other opportunities now. So you can keep everything alive, even if it is obviously not like seeing each other in person."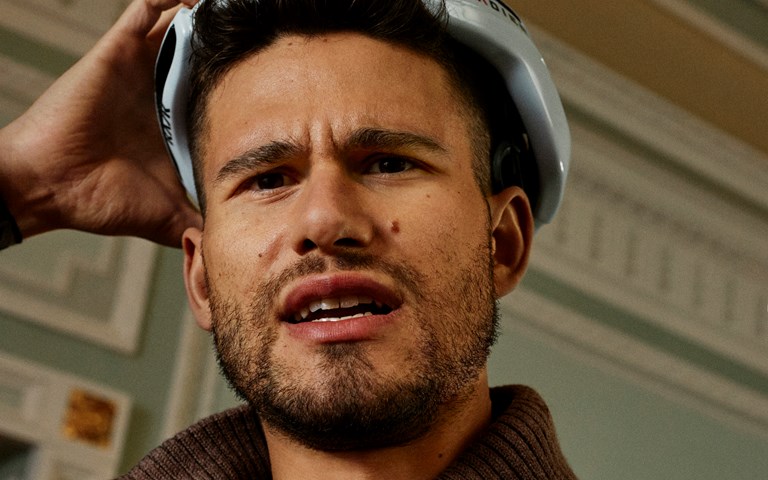 Seeing you in the saddle it seems that everything is easy, when you have some bad days, what is your approach to overcome them?
"It's not all easy, there are many bad days. You have to know how to overcome them and look ahead. It is not easy, but you must always have your head on your shoulders, even if the day is 'no', you have to go ahead and the day will return to 'yes'."
Cycling is a sport in which you win alone and in a team, where sometimes you have to pull and sometimes you take advantage of the work of others, you think it can also have an educational value?
"In our world you are not always leader and not always a follower, I do not know in the working world if it can be the same. Surely it helps to know how to make sacrifices and know how to sacrifice for the group. Because the more you give to your team, the more your team will give to you. I think it's a good lesson that you can take from sport.
You now reside in Ticino, what do you appreciate about Italian Switzerland?
"There is much more than in Switzerland for cyclists, even for road training. We must respect motorists, but I can assure you that in Switzerland the percentage of those who came within a hair's breadth of a car is much lower than in the rest of the world. So I can only thank them. In general, it is a beautiful gym, with many climbs and many places where you can train and the results begin to see." 
Which routes in Ticino and Graubünden do you prefer to follow for your training?
"Usually in Graubünden I go to do Giova (steep and winding ascent that starts from San Vittore, in Moesano, ed.) which is one of my favourite climbs. In Ticino, then, there are the Monti della Gana, which are reminiscent of my name and I find the play on words amusing."
Cycling enthusiasts who travel the roads of Mesolcina or Ticino are advised, if they are overtaken by an elegant aerodynamic silhouette, able to release hundreds of watts, you should not be surprised or darken, it is only Top Ganna that is trying the take-off!"
Filippo Ganna
Year of birth: 1996
Profession: cyclist
Born on the shores of Lake Maggiore, he grew up in Vignone, a small town on the heights of Verbania. The son of Marco, an Italian canoeist who participated in the 1984 Games, he preferred pedals to the paternal paddle. Nicknamed 'Top Ganna', he has been a professional road racing cyclist since 2017. His specialty is time trials. On the road, he was world bronze medallist in 2019 and gold in 2020 and 2021. He also won six stages in the last two editions of the Giro d'Italia (five of which were timed). On track he won the gold medal in the team chase at the Tokyo 2020 Olympics, where he helped set the new world record at 3'42"032. He is also a four-time individual pursuit world champion, in 2016, 2018, 2019 and 2020, a discipline in which he holds the European record with a time of 4'01"934.