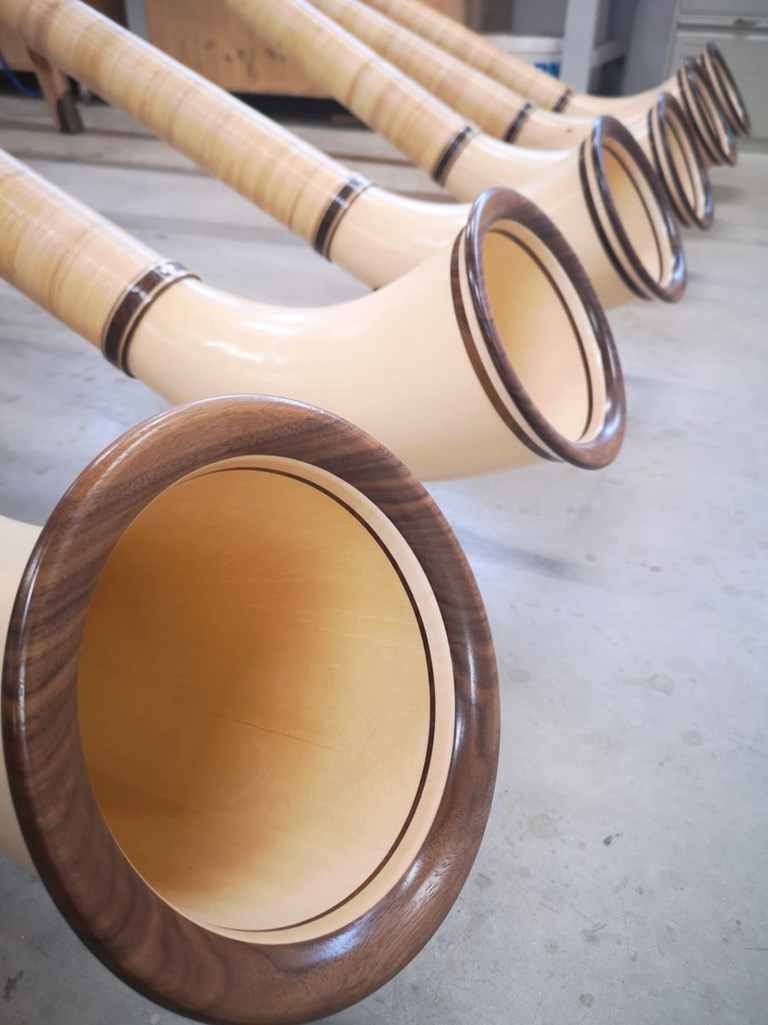 When the mercury column lowers and the trees slow down their develop-ment to face the winter, in the woods of Grisons forests you can meet him, in the company of a forester. It observes the spruces, scrutinizes them, hears them "singing" and finally, when the moon is waning, cuts the most suitable ones, those of resonance. In his hands they will become horns of the Alps. Nine years ago, Bruno Cattaneo was the first in Italian Switzerland to start producing alphorns. With the firm Cattaneo & Kunz of Grono, during the year he deals with building work, carpentry work. Then in winter, when the activi-ty of construction site decreases, he hollows out the fir boards, shaping them, treating them. A limited production, at most a dozen pieces a year, which was born from passion and experience gained in the field.
When he talks about it his eyes sparkle, a smile breaks out between his beard and he takes the opportunity to choose the most suitable mouthpiece and tune a harmonic staircase with his latest alphorn. Then he tells us how these unique musical instruments are born.
Cattaneo, when did the passion for the horns of the Alps begin?
"They always fascinated me. Then a decade ago it was my brother-in-law who convinced me to try one. Together with a friend, who has played it since he was a child, we went to Switzerland and bought one instrument each. I, except in Guggen, had never played before. With my ear I learned how to play and then we formed a quartet in which my son also plays."
How did he go from being a player to an instrument producer?
"Nine years ago I looked for the right wood, tried and tried again to find the right size. In short, I was self-taught because there are no schools. However, in the end, making them was a great satisfaction for me."
Did the horns always used to be one-of-a-kind?
"Yes, in the old days you would look for the plant with right curvature and size, you cut it and you dig the trunk. I have one about 200 years old on display that was made with this technique. Now we make horns in several parts with aluminium inserts. In this way they can be disassembled and transported with their case. It is also possible to vary the length by changing one end. 90% of the performances are done with the tone in G flat, which corresponds to a horn of about 3 meters and 40 cm. Changing the length you get horns in A flat, G, F and E. The longest horns can exceed 4 meters."
Who are your clients?
"A few years ago in Ticino there was a sort of fashion, the canton promoted courses and several people wanted to try their hand at it. Now, however, having also refined my technique, I must say that to book the instruments are mostly experienced musicians resident beyond Gottardo. For me, it is a great satisfaction because it means that I am considered worthy of other historic craftmen of German speaking Switzerland. From the most famous, it is necessary to wait even two and a half years, while others have "industrialized" the production. In all the Confederation I think there are twenty of us able to build alphorns."
What is its annual output?
"I usually make them by appointment and only in the winter, so there are never more than 10 or 12 per year."
How is an alphorn made?
"Around November, when the plants are less rich in sap, with the right moon, together with a forester, I go to look for the most suitable spruce trees. Some spruce trees have the characteristic of being resonant wood, excellent for musical instruments. Then there are also horns made with walnut, chestnut, even in olive, but they do not have a full sound like those of fir."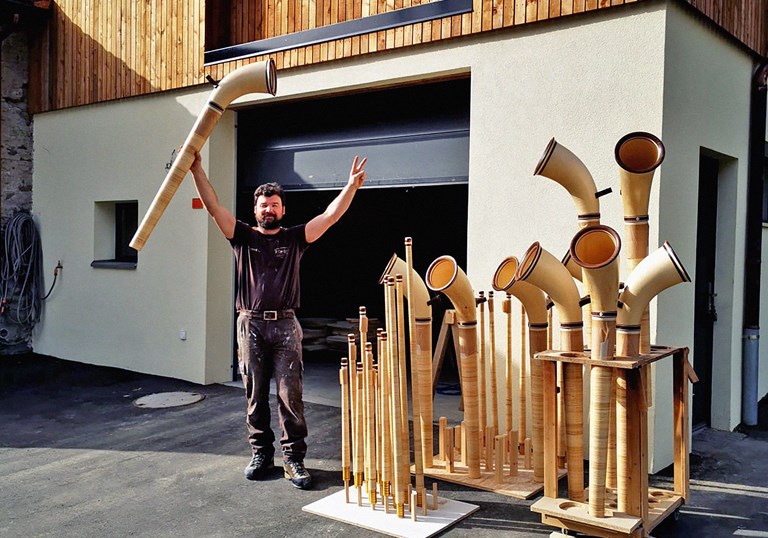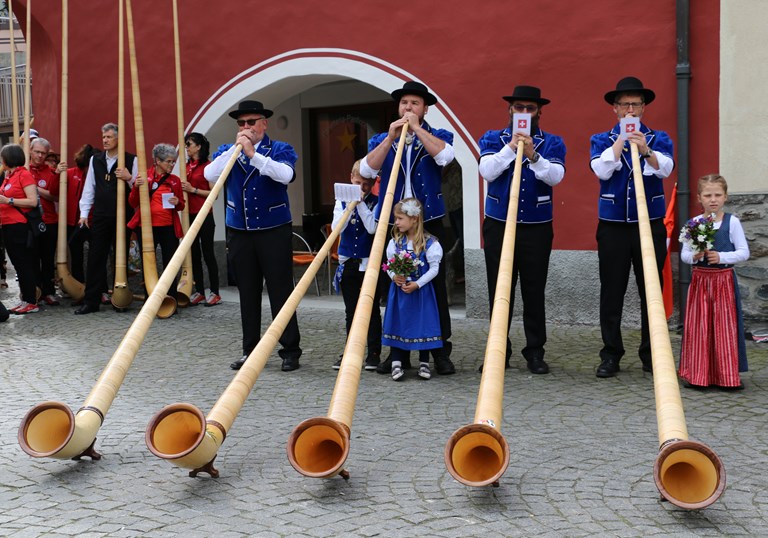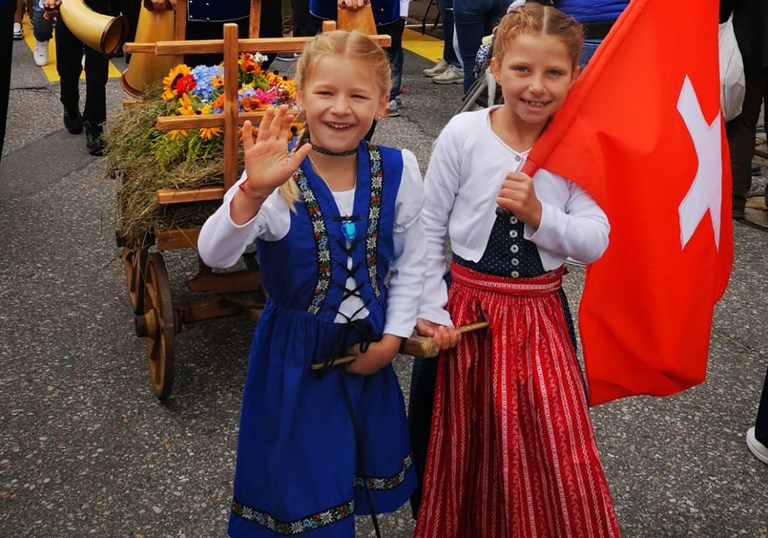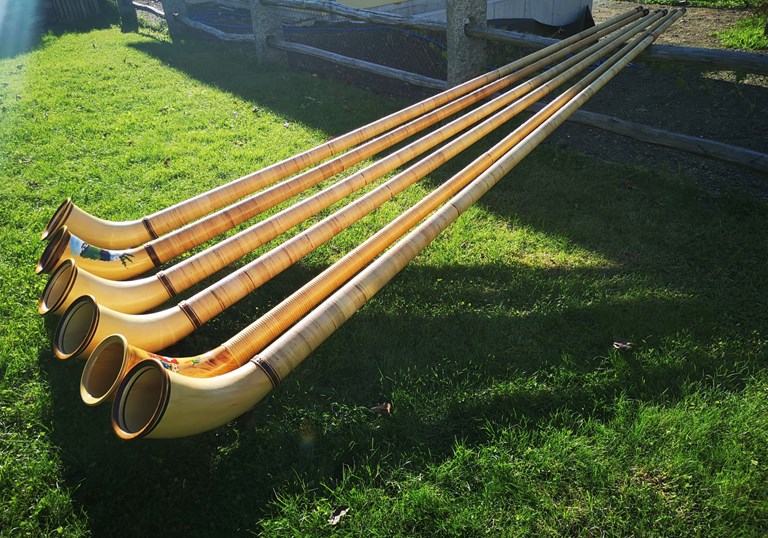 Does the wood have to be seasoned?
"Yes, I use 12 cm boards. I hollow them out, then I join them together and turn the outside back. For boards with a similar size, it takes at least 4 years of seasoning, I wait 5 years before using them."
Are all horns the same?
"I usually finish the exterior with natural rattan, but in one case I was asked for a zebra finish and I made it."
How much time does it take to make a horn?
"About a week's work".
When the horn sounds, what do you like to perform?
"The horn is a special instrument. Everything must be done by modulating the sound with the pressure of the lips. It's a bit like playing the trumpet, but without the keys. However, it only develops harmonics, so we are talking about fifteen notes. For this reason, some scores must be adapted to be played with the horn of the Alps. For example, the Swiss anthem is almost impossible to play with horns. Personally, I prefer performances related to music written especially for horns, when you hear certain arrangements you realize that something is missing. It's a different matter if we talk about concerts with orchestra and not just for horns."
The best interpreters of the horn of the Alps?
"Lisa Stoll is certainly a point of reference today. Despite her youth she has already recorded several record and played in important international cities. Her repertoire includes both traditional Rhani for Alpine horn but also concert works, adaptations of modern music and her own compositions."
What are the opportunities to perform?
"During the year many gatherings were held in different locations in Switzerland. The Covid-19 in the past months has cut the calendar a bit over the past few months, but now we hope to restart with normal programming. These meetings are always very pleasant because of the atmosphere. It's great to meet up with people who love the same instrument, to discuss things, listen and play!"
Bruno Cattaneo
Year of birth: 1983
Profession: construction work and alphorn making
He started playing the alphorn in 2011 and the following year, as a self-taught musician, began the artisan manufacture. As well as making musical instruments, he also works for Cattaneo & Kunz, a company in Grono that renovates houses, farmhouses and cottages. He also does small carpentry and tiling work.