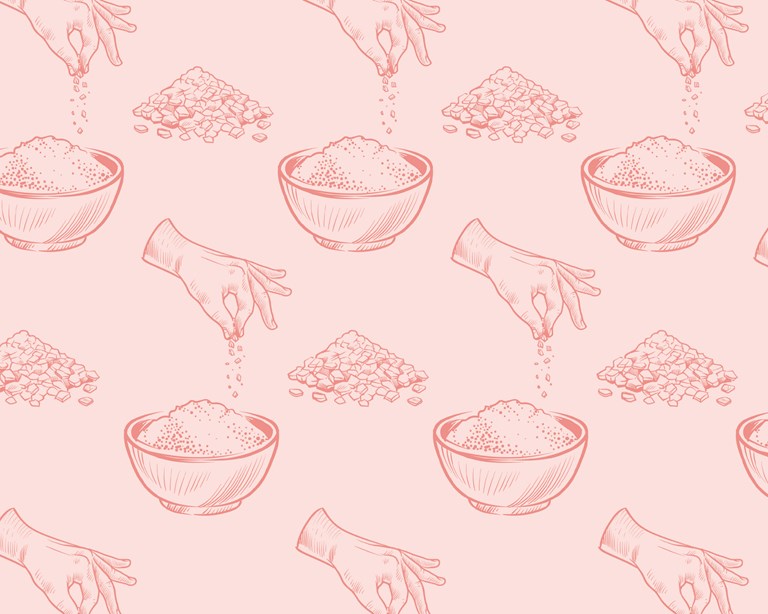 Ambra, a little celiac in the kitchen
Can diversity be transformed into a strength, into a dream to be realized? Yes, if what may appear to be a limitation becomes the stimulus to learn new things, to discover other flavours of the world.
Ambra Galli is 11 years old and two years ago, she discovered she was celiac. Since then she has had to remove gluten from her diet (i.e. pasta, bread, pizza and desserts as we normally know them). The celiac condition is in fact an autoimmune disease, which attacks and destroys the digestive system if food containing gluten is eaten. For two years Ambra has learned to choose food with care and in the end what is a necessity for her. She wanted to transform her condition into a virtue so she learned to juggle cooking by preparing gluten-free dishes. She started experimenting with new ingredients, new dishes, discovering recipes from around the world, from cultures that do not put wheat (some food rich in gluten) at the centre of their diet. Today her dream is to grow up to open an ethnic restaurant, with dishes in-spired by world cuisines and strictly gluten free. But let her tell us how her passion for cooking came about.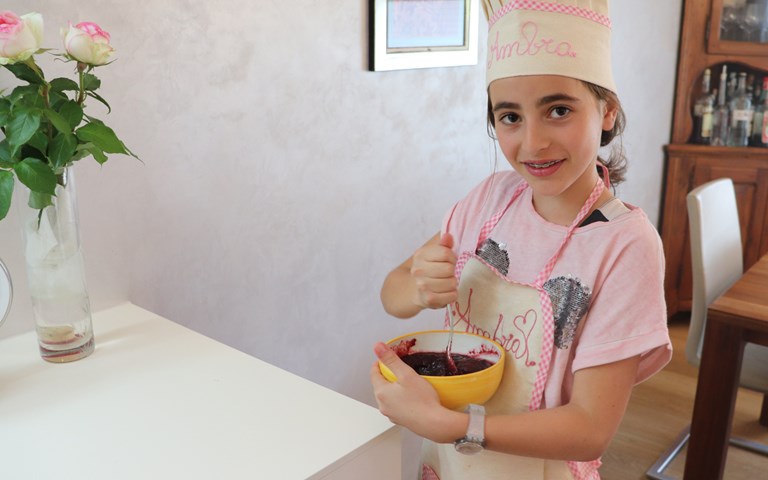 Ambra, what made you go near an oven and a stove?
"It was Grandma who got me involved in baking when I went to see her at her house. The love that she put in to her cooking with us grandchildren im-pressed me."
Which is your favorite dessert?
"Without a shadow of a doubt the rolled up biscuit. It is a soft sponge cake with raspberry jam inside, covered with sugar and rolled up. It was one of the first ones I made with my grandmother. We children love it."
Can you explain the recipe?
Ambra smiles, "Well, I can't remember it by heart, so when I have to make it I look on the Internet to verify the process. For the ingredients I look in my grandmother's notebook, which often has tricks to make the cakes taste better."
And what is the trick to the rolled biscuit?
"You have to add an extra egg compared to the classic recipes found in cookbooks, to make the dough softer. Also, if you replace the white flour with corn flour, you need to add a little more water. The choice of jam is important.
I like to mix a bit of strawberry jam with raspberry jam."
So every recipe is revisited to make it gluten-free?
"Yes, and often you discover new ingredients that allow you to achieve the same result. Or you get to know new dishes and new flavours, which without this passage would not have been found. For example, we often cook quinoa, which is a cereal that can replace pasta in the menu, or dry cereals for breakfast. Buckwheat is also very useful for creating succulent recipes."
What other foods have you included in your diet that you didn't know before?
"It's not that I didn't know them, I just didn't use to eat them. I learned to eat more fish, for example. My favourite dish is salmon tartare. But I also like dishes from more distant traditions, such as Thai cuisine with rice or bean noodle dishes or rice with vegetables and boiled meat."
Has the celiac disease changed your habits?
"Being celiac has helped me to be more aware of my choices and to be-come independent in assessing what is right or wrong for me. After all, I lost some of my innate shyness and I gained courage to face the challenges of life!"
And where will this passion for cooking take you?
"When I grow up I would like to become a teacher or a chef and have my own restaurant, a place where people with food intolerances can feel at ease. You will find ethnic dishes revised according to the eating habits of those who can't afford to eat everything."
We already know the house dessert, what menu would you pair it with in your dream restaurant?
"A starter of tartare of wild salmon from Mesolcina, with avocado and cherry tomatoes. A taste of buckwheat spaghettini with Lumino pesto, made with basil, nettle, pecans, extra virgin olive oil, grana padano, garlic, ice and a drop of white truffle oil. The main course is Iberian pig secreto grilled - which Dad usually cooks - with a side of aubergine and caramelised onions. Our beautiful rolled biscuit for dessert and all accompanied by a Virgin Mojito."
Recipe for rolled biscuit
Ingredients: 
4 egg yolks
1 egg white
5 tablespoons of water
150g sugar
q.b. vanilla sugar
q.b. jam
100g flour (rice and sorghum)
50g cornstarch
1 teaspoon yeast (gluten free)
Preparation:
Beat the egg yolks and add the water, then slowly add two thirds of the sugar until you get a mass of light colour. Beat the egg white with a third of the sugar. Mix everything by adding the flour and corn-starch. On a baking sheet covered with parchment paper, spread the dough to a thickness of one centimetre. Put in the oven at about 200⁰C for about 30 minutes. Once cooked, remove from the oven, let it cool, spread with jam (the large can add a little grand marnier), sprinkle with vanilla sugar and roll. The biscuit is ready to be cut and served."