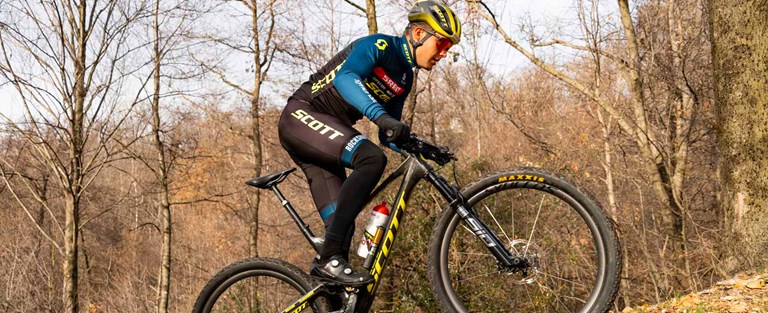 In 2021 he tasted the thrill of racing in an Olympic competition, and for an athlete it is an indelible experience. So, after Tokyo, Filippo Colombo now also wants to get into the saddle in Paris 2024, to compete in cross country - the Olympic mountain bike speciality. It will be partly for redemption, for two years ago he arrived at the five-circle challenge after a serious injury and wasn't in the best condition. The 25-year-old Ticino cyclist has witnessed the development of the discipline at cantonal level and the technological evolution of the medium over the past 15 years, managing to turn his passion into a profession with 16,000 kilometres a year in his legs. We interviewed him about the future of the discipline and the growing number of practitioners.
When did your passion for cycling begin?
"As a child, but at the time, there were no MTB clubs in Ticino. If you wanted to ride a bike you could only do it through road cycling teams. So, I started competing in the under 11 category in the ranks of the Velo Club Monte Tamaro and up to the Under-15s I participated in mixed races, both road and MTB."
When did you realise your preference for MTB?
"At the age of 15 when I switched to the rookie category, and in that year (2012) the Velo Club Monte Tamaro created the first cantonal MTB team. There were five of us youngsters and in the first year we faced heavy defeats as we were up against teams that had specialised in MTB for some time. The following year, however, I won my first victory at the Swiss Cup. I was on the right track, so when I made it to the juniors in 2014, I won the Swiss championship title and was called up for the national team."
Then came the international laurels...
"Yes, the podium win at the World Championships in Nove Mesto, Czech Republic, came immediately after my final exams. 
In 2017, I claimed the silver medal at the European Championships and in the World Cup."
And in 2021 the Olympics...
"I almost missed them because the year had started with a bad injury that forced me to sit out for almost three months. Fortunately, I managed to recover in time, which was a great experience, but I didn't get there in the physical shape I would have liked and I finished in 12th position."
So the goal now is to go to the 2024 Paris Olympics?
"Yes, although it will be even harder to qualify because there will only be two places for Swiss athletes. But in the coming months the goal will definitely be to arrive in the best condi-tion at the start in Paris."
Compared to 11 years ago, when the first Ticino MTB team was born, how has the movement evolved at Tici-no level?
"Now there are two clubs with MTB teams, which have a lot of young people in their teams who want to try MTB and learn this discipline. The high-level competitive results aren't there yet because it's difficult to make the leap into the professional world, but it's only a matter of time. With these numbers, some very good individuals will undoubt-edly emerge in the coming years.
What is the offer of MTB routes in Ticino like?
"Finally, for some years now, we have started to fix and re-port paths and trails. I live in Bironico, so my routes are those in the Lugano region, starting with Monte Tamaro. These are the paths I train on every day."
Does the increase in practitioners of the discipline risk a difficult coexistence with hikers?
"I am an advocate of common sense. I believe that in 95 per cent of cases, with the right precautions and respect-ing each other, there are no difficulties in coexisting on the same trails. Of course, you can't go 200 mph, perhaps at critical points. That's how it is for now, but if the curve of practitioners continues to rise as it has in recent years, we will have to consider, on the most popular routes, reserving some trails for bikers and others for walkers."
How do you rate the spread of electric mountain bikes?
"I too have an e-bike and I really like it as an alternative means of discovering our area. In general, thanks to e-bikes there are many more people who would never have imagined climbing to the top of certain mountains in the area. Now, however, getting to the top of Monte Bar by pedalling is an experience for almost everyone.
The e-bike is a beautiful piece of equipment, a formidable technological aid, but it clearly has some problems. Those who are neophytes to the discipline, who do not know the terrain, the routes, the riding technique and their abilities well, run the risk of committing themselves to itineraries that are not within their grasp and ending up in risky situa-tions. That is why it is essential to focus on awareness-raising and on technique and riding courses for those ap-proaching e-MTBs."
A mechanical failure, even more so than in road cycling, can cause an MTB race to be lost. How have MTBs evolved technologically?
"They are vehicles that today go faster and faster downhill, and this means that it is easier to fall, puncture, or have mechanical failure. That's why work has been done to find a compromise between speed and endurance. For exam-ple, at the 2012 London Olympics we raced with 8Kg bikes, whereas in Tokyo none of us had bikes under 10Kg."
Can you make a living from MTB?
"Yes, there are not many of us, but once we enter the pro-fessional circuit, there are several brands that invest in the teams."
But is it a job that doesn't leave room for much else?
"Let's say that the preparation involves about 15-17 thousand kilometres in the saddle, which is about 800-900 hours of cycling a year. You go out on your bike every day, often twice a day."
In your spare time, what are your other passions?
"I like winter sports but also as soon as the competitive season is over I go windsurfing with my brothers and the family."
How do you see your future when you finish your com-petitive career?
"I graduated in economics from USI two years ago. I wouldn't mind one day being able to combine my studies with cycling. It's a sector that has generated a lot of busi-ness in recent years, so we'll see..."
For now, however, the values that interest Colombo are not those of the stock market, but those of the Olympic motto 'Citius, Altius, Fortius' (faster, higher, stronger), with the aim of putting them into practice in Paris 2024.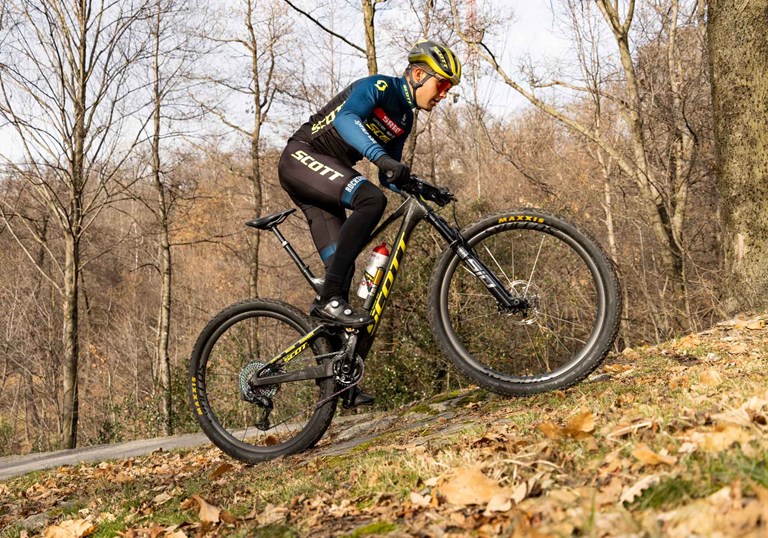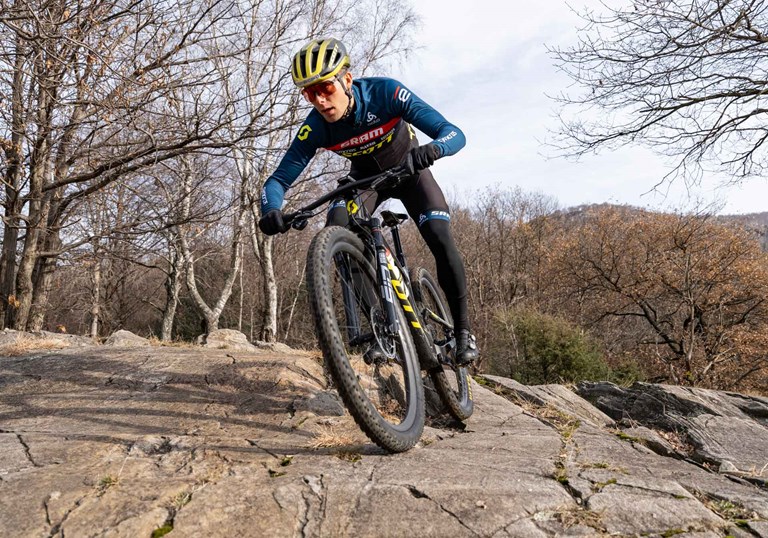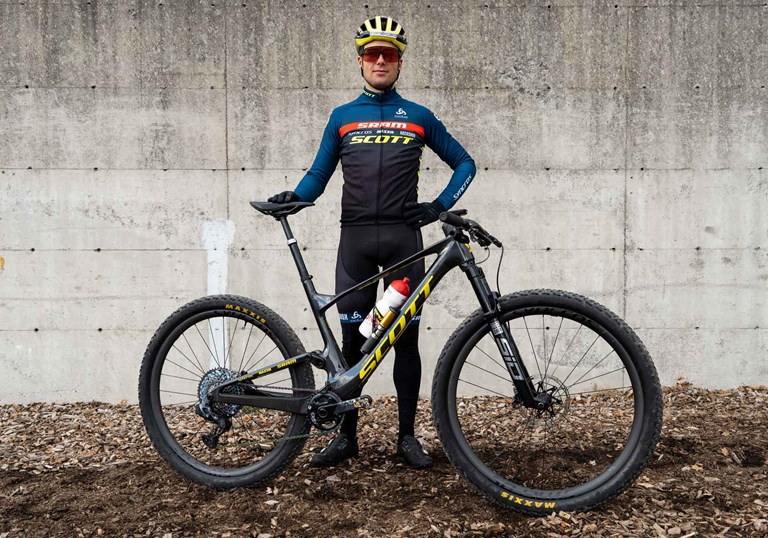 Filippo Colombo
Year of birth: 1997
Profession: cyclist
He grew up in Bironico, a small hamlet in the municipality of Monteceneri, in the canton of Ticino. He approached cycling thanks to the passion passed on to him by his mother and uncle. Over the years he specialised in MTB, winning the ti-tle of World Champion in the team relay race in 2018. 
He graduated in Economics from USI and is currently a pro-fessional cyclist with the Q36.5 Pro Cycling Team.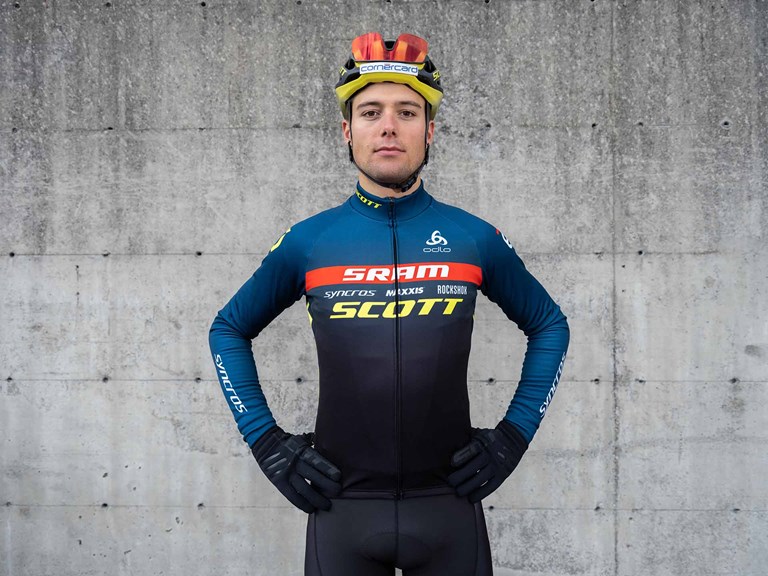 THE BFU'S ITINERARIES AND ADVICE
There are over 415 km of mountain bike routes in the Lu-gano region, divided into dozens of routes with indications of difficulty, equipment and required preparation. They can be discovered at: www.luganoregion.com/mtb
It is worth remembering the 5 main pieces of advice drawn up by the UPI (Swiss Council for Accident Prevention) for those riding a MTB.

1) Use a helmet, sports goggles, integral gloves and protec-tion.
2) Choose a route suited to your abilities.
3) Ride in a focused and defensive manner.
4) If riding on the road, make yourself visible to other users.
5) Have your mountain bike checked by a specialist.