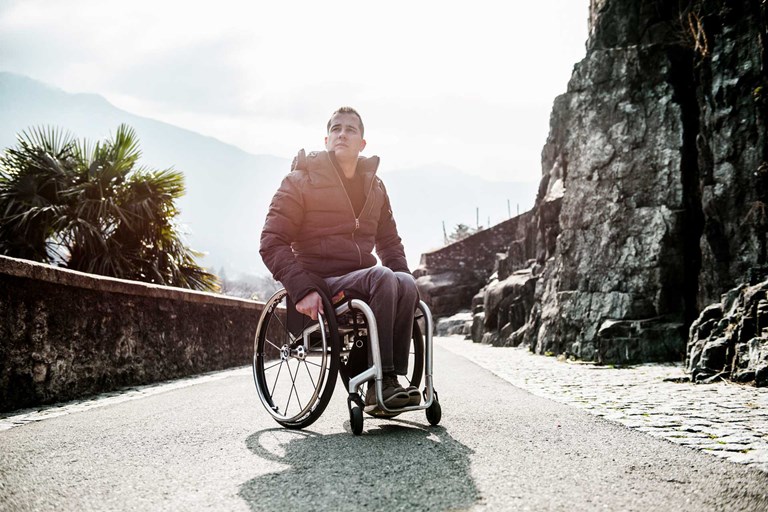 Disability, technology and common sense
Changing social awareness and more careful legislation and technological improvements. In recent years, the quality of life of people with disabilities has increased on average in Italian-speaking Switzerland. A change that has not yet filled the glass with differences in opportunities, but one which leads Christian Broggi to say that the glass is nevertheless half full. Broggi had an accident when he was studying engineering that resulted in the paralysis of his legs. Since then, he has been moving around in a wheelchair but has a busy life between his family - his wife Tosca and children Eon, Ian and Nina - and the Ticino cantonal administration, where he works in the forestry section. We interviewed him to find out his view of the relationship between society, technology and disability.
When was the accident that forced you into a wheelchair?
"In 2009, during my last months of studies in forest engineering, I was on a school excursion near Berne, on a viewing tower. The floor collapsed; I fell and broke a vertebra. After months in hospital and rehabilitation, I managed to finish my studies in 2010, but I never walked again."
In these 14 years in which you have lived your life in a wheelchair, have you noticed any changes in society with regard to relations with people with disabilities?
"I notice that there is more and more sensitivity with regard to the removal of architectural barriers, partly because legislation on new buildings and renovations imposes regulations to make buildings barrier-free. 
In addition, there are several associations and foundations that have a widespread presence in the area and are committed to making people aware of the issue of disability. 
People often talk and write about disability to denounce and highlight the things that are wrong and that is fine, but we should also say that the glass is 'half full' and that a lot of progress is being made."
What about in the field of transport?
"You can always do more and do better. For example, the Biasca station is still not accessible, but many situations have changed. Also, because let's not forget that accessibility is not just a matter for paraplegics, there are parents with pushchairs, elderly people with shopping bags, the visually impaired etc. In short, making means of transport barrier-free makes them more attractive, because it simplifies and improves the quality of life for everyone."
So where are the problems?
"Obviously when we are confronted with old structures, or if we think of monuments or museum structures in old buildings, I accept that I can't go everywhere. However, today we work very well with 3D reconstructions of environments and you can do virtual tours, even if it is not the same thing. What I do not accept is trivialising the problem. If I call to find out if a structure is accessible, I cannot be told: yes, there are a couple of steps, but we will find a solution. Because if the solution is to be carried in one's arms, in front of other people in a museum or restaurant, it may be that one feels embarrassed and annoyed by having eyes on one. If there are ramps and spaces that are not accessible, just say so."
In recent years has technology at the service of people with disabilities also improved?
"Yes, in many ways. For example, there are apps that indicate in every city or town where there are parking spaces for people with disabilities but also accessible public toilets. There are also other digital apps that have certainly improved the lives of people with different types of disabilities than mine, I am thinking of the visually impaired, the deaf and dumb people.
In the case of quadriplegia, i.e. cervical spinal cord injuries, in addition to the lower limbs, hands and arms also cannot move. Technology, particularly robotics, is making great strides to make life easier for quadriplegics.
Progress has also been made on the pharmaceutical front with drugs to reduce pain, urinary infections and counteract other side effects of paralysis, bearing in mind that the complications are different if a person is 20 years old or 70 years old and paraplegic."
Today there are also experiences of barrier-free nature trails, are they spreading?
"In 2018, two barrier-free paths from the Mobile Switzerland network were inaugurated in Acquarossa, in the Blenio Valley and there are a number of associations in Ticino that are very sensitive to the issue. Obviously you can't work miracles, but even if we are not talking about forest paths, making certain routes safe and accessible to wheelchairs is a great opportunity for people with disabilities, the elderly and families with small children, it gives them an opportunity to discover the area and move around in nature.
I was recently contacted by the Bobosco association in the Verzasca Valley to ask for some advice on how to make a forest path partially accessible for special wheelchairs. There has certainly been no lack of interest and commitment on the subject in recent years."
Paralympic sports are also becoming increasingly popular.
"Yes, I'm a member of the Gruppo paraplegici Ticino, a sports and recreational association, and I personally practise hand biking and tennis on an amateur level, and in winter cross-country and downhill skiing."
Has technological development also brought innovation to paralytic sport?
"Definitely. There are lighter and stronger materials, increasingly high-performance wheelchairs made of titanium and carbon fibre. Marcel Hug, Swiss multiple Olympic champion in wheelchair athletics, raced in Tokyo with a new model developed in collaboration with Sauber."
One last question, on parks and outdoor facilities. What barriers are there?
"You can find ramps with excessive slopes, steps, gravel and uneven ground that make it difficult to pass. In these cases, you can report the problem to the manager and sometimes he himself makes an effort to solve or mitigate the problem. Certainly, the approach counts a lot, the way you present yourself and how you report it. I think common sense counts a lot, many problems could be solved by looking for solutions together, sometimes problems arise because of underestimation, because you don't think about it or don't have the vision of a wheelchair user. Just explain it politely and people are usually ready to commit to change."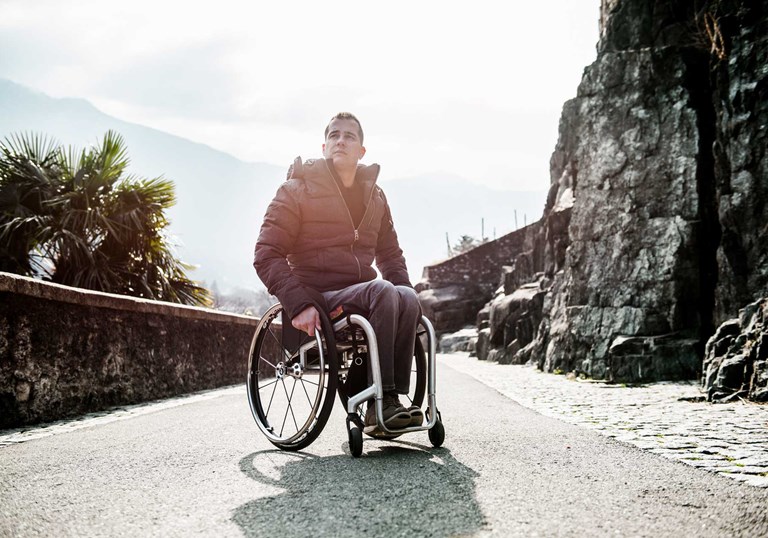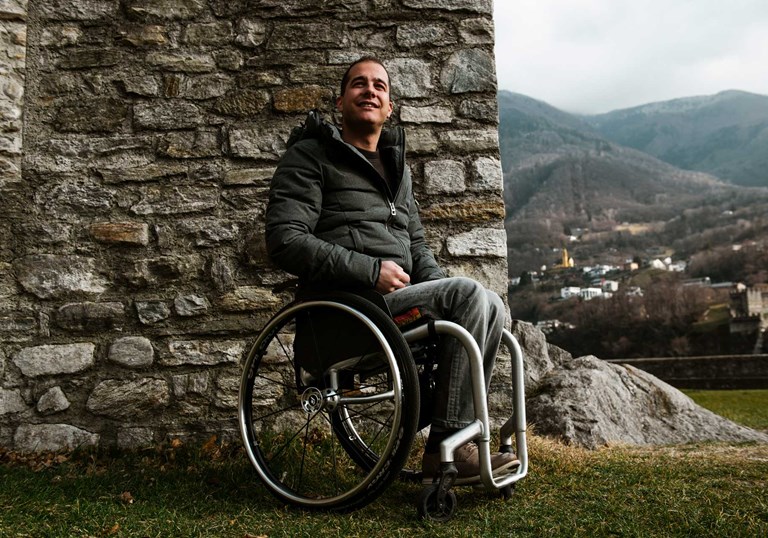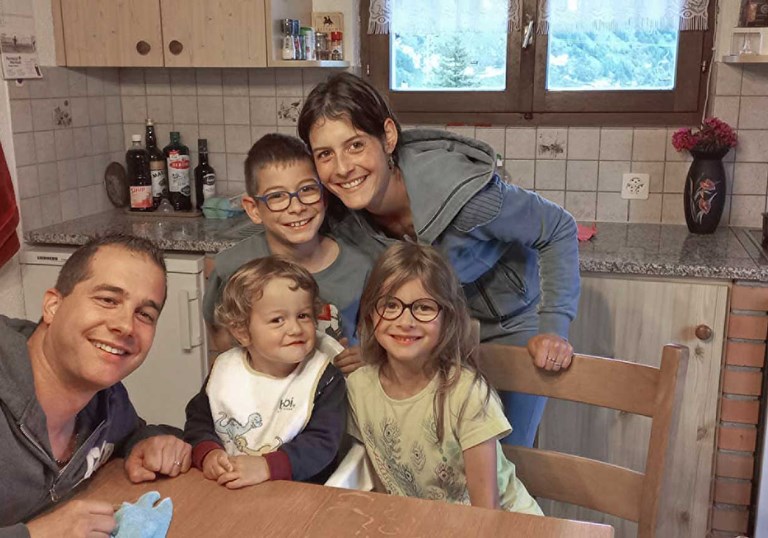 In 2018, two barrier-free paths from the Mobile Switzerland network were inaugurated in Acquarossa, in the Blenio Valley and there are a number of associations in Ticino that are very sensitive to the issue.
Christian Broggi 
Year of birth: 1984
Profession: Forest engineer at the Ticino cantonal administration
Broggi is an SUP Forestry Engineer and it was during the last months of his course, in 2009, that he broke a vertebra during a school hike up a lookout tower near Bern. The accident left him with paraplegia. He currently works for the Ticino cantonal administration, in the forestry sector of the Land Department.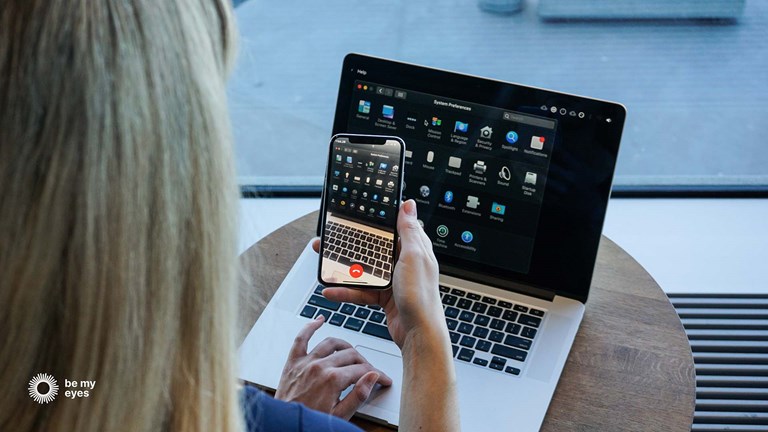 The app for the blind
One use of technology for video calls and the social network system is Be My Eyes, a Danish mobile app that aims to help blind and visually impaired people recognise objects and cope with everyday situations. The blind person starts a live stream showing what is in front of them from their mobile phone camera. The stream is assigned to a random volunteer who speaks the same language and is in the same time zone. This allows the volunteer to describe what is in front of the blind person and help them deal with unforeseen situations, solve solutions or read instructions, making them more independent.
The five-circle wheelchair
OT FOXX is the first racing wheelchair entirely created in Switzerland. It was created by Orthotec (a subsidiary of the Swiss Paraplegic Foundation), the Sauber Group and other Swiss partners such as the Swiss Federal Institute of Technology Zurich, the wheel developer and manufacturer Swiss Side and Swiss Paraplegic Research. The wheelchair was used by Swiss athlete Marcel Hug at the Paralympic Games in Tokyo. Hug won four gold medals in the 800m, 1,500m, 5,000m flat and the T54 marathon. He also set a world record in the 1,500m. The research used to make the racing model, which is made entirely of carbon, will also be applied outside of competitive sport, by optimising wheelchair seating and reducing wear and tear on the shoulder joints, thanks to a special simulator called an ergometer.
In nature without barriers
The Barrier-Free Trails are a hiking proposals specifically intended for people with disabilities and mobility difficulties, officially recognised by Mobility International Schweiz (MIS) and has been included in the national network dedicated to slow traffic by SwitzerlandMobility. In Ticino, there are, for example, the two Acquarossa circuits (651 and 652) promoted by the Ente regionale per lo sviluppo Bellinzonese e Valli (ERS-BV) with the municipality of Acquarossa and the collaboration of other important partners. The Dongio-Motto Circuit (651) is marked with a blue stripe and is easy to navigate. The Dongio-Satro Circuit (652), on the other hand, is marked with a black band as it passes through some rather challenging points in the area of the Grotti di Dongio. The circuits offer everyone the chance to discover the natural landscape along the Brenno River in the Blenio Valley, which is also rich in cultural-historical elements such as the Romanesque masterpieces of San Pietro di Motto and San Remigio (svizzeramobile.ch)