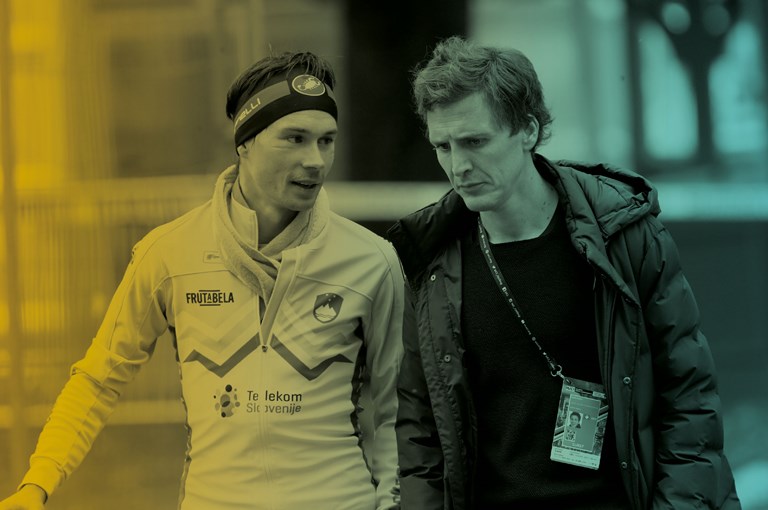 In order to have a special insight on professional cycling, you need to knock on the door of Mattia Galli.
Shareholder of the agency WSP Worldsport Promotion SA, he manages the interests of several professional athletes from his office in Grono. The most famous name is that of Primož Roglič, current number one in the world ranking of the UCI, the Union Cycliste Internationale, and twice consecutive winner of the Vuelta a España, one of the three Grand Tours together with the Tour de France and the Giro d'Italia. What's the driving force behind a champion?
We discussed it with Galli.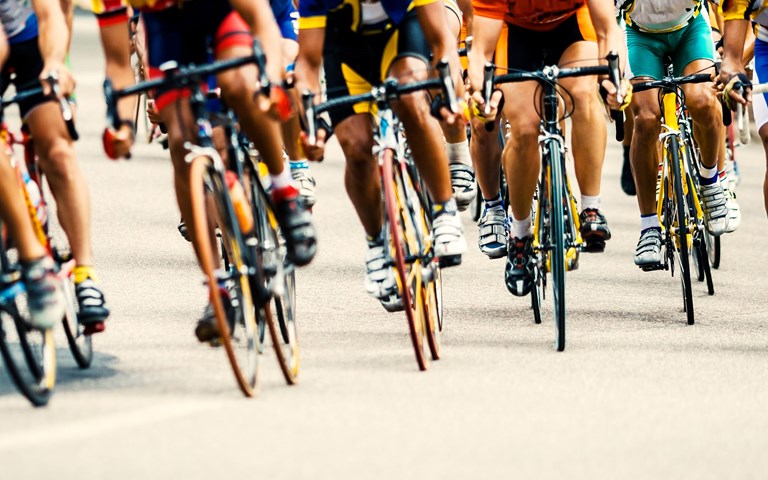 Galli, let's start from the road, from the races. Which one was the most emotional?
"I could mention a few; from Jan Tratnik's victory, in the vesture of team member in the sixteenth leg of the Giro d'Italia, Attila Valter's first tour as a professional in the Tour of Hungary, to the Liège-Bastogne-Liège, first classic title for Primož. Perhaps I ought to say the thirteenth leg of the Vuelta, November 3rd against the chronometer, when he took back the red jersey and wore it to the end was unforgettable. He won the chronometer by a second and this was a liberating moment for him as it meant he had banished the ghosts of the 2020 Tour. In September in France, he had lost the yellow jersey on the last chronometer. Victory in Galicia had significance, to be able to say: I am back. I can still win the race against time".
Do you follow many professional cycling races?
"I attend numerous events throughout the year. From a professional point of view, it is essential for me to be close to the athletes and be present in this environment, in order to strengthen relationships or strike up new ones, and also to follow the future generations. Cycling is an itinerant sport and apart from team retreats, in general there aren't any places where cyclists meet up when they are not competing. There are team headquarters, but everyone trains on their own wherever they live".
How do you become a manager for professional cyclists?
"You need a license issued by the UCI, the Union Cycliste Internationale. In my case I entered the profession because I had taken part in cycle races in my youth up to the first years of 2000. I didn't turn professional and while studying, I started managing a few of my friends, like Patrick Calcagni, today my associate, and also other cyclists".
Are your clients all cyclists?
"Mostly yes, but I am still partially active in the football sector, albeit less than before". 
Is there a difference between the two types of athlete?
"Well, every athlete has his or her own character with qualities and flaws. Football is a pure team sport, and cycling is an individual sport where you need the team to win. In general cyclists are probably more independent and obliging."
Apart from Roglič, who else is on your books?
"I am agent for eighteen athletes. Thirteen professionals, four in the youth category U23, and one mountain biker. Hungarians, Norwegians, Slovenes, Colombians and also Swiss, starting with Matteo Badilatti, who competes for Groupama-GDJ, and Ticinese mountain biker Filippo Colombo".
What service do you offer them?
"The first thing to do is to secure a contract for them with a cycling club. But in actual fact we take care of all sorts of details to do with the smooth running of an athlete's daily routine.
It is also our responsibility to provide the person with psychological support". 
Does professional cycling still attract sponsors?
"Cycling with its international connections has always been an attractive sport for companies from diverse sectors. Insurance, telecommunications, energy, banking, supermarket chains, lotteries, the service industry etc. These days it has also become an opportunity to promote particular countries. Israel, Bahrain, Kazakhstan (editor's note: Astana), and the Arab Emirates have teams in the World Tour and are eager to affiliate themselves with an eco-friendly sport that is widespread and ever more present in society like cycling".
Coming back to Switzerland, when will there be another Cancellara?
"There are already many young emerging talents, such as Marc Hirschi. This 22-year-old competes for Team Sunweb and this year he won a leg of the Tour and the Freccia Vallone, and also finished third in the Road World Championships and at the Liège-Bastogne-Liège. With his ability, he will be able to give his best performance concentrating on the Grand Classics and also, why not, in the stage races. And what a coincidence – he is from Ittigen, the same municipality as Cancellara". 
Ticino is also a land of imported cyclists.
"Yes, it's true, many cyclists like champions Nibali and Aru live in Ticino. I don't think it is solely for tax reasons, but also because the Italian part of Switzerland offers them the perfect conditions to be able to pursue their interests as well as enjoying a good quality of life. This year also the world time-trial champion, Filippo Ganna has moved to Ascona. You can often bump into him peddling around the Mesolcina region".
There are some small countries like Slovenia, approximately 2 million inhabitants, that churn out champions: the person who beat Roglič at the Tour is a fellow young Slovene, Pogacar. Is there a secret for success?
"Slovenia has made great investments and really believes in sport, it boasts world-class athletes in numerous disciplines: Doncic, Dragic, Maze, Gajser, Stuhec, Prevc, to mention a few. In cycling, they are reaping the benefits of a movement that is growing continually. There is also the emulation factor – today sportsmen and women are increasingly seen as role models for younger generations".
Will Roglič try again to win the Tour in 2021?
"It's too early to plan a definitive program, it will depend of course on how the season turns out, given the unpredictable Covid situation, and on the strategy of the team (JumboVisma, editor's note). Certainly, after fourth place in 2018 and a bitter second in 2020, the top step of the podium on the Champs Elysées remains his primary objective".
So, in 2021 Galli will continue to support his champions in the most exciting cycling challenges, and who knows, maybe one day in the not too distant future he might return to Grisons with a yellow jersey in his suitcase. 
Playlist