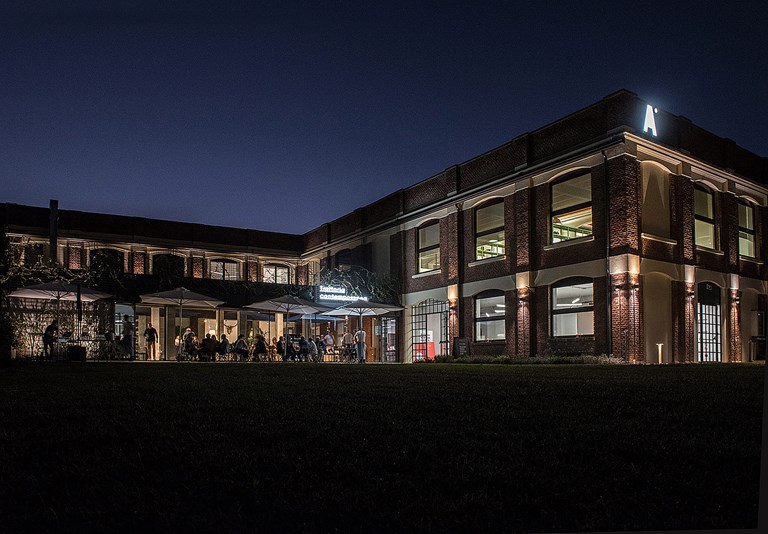 The co-working with the star
Can you win a place of prestige in the MICHELIN Guide with a kitchen brigade of 25 years old and a restaurant inside an old cotton mill transformed into a co-working space? Contemporary trattoria in Lomazzo, in the province of Como, a few kilometres beyond the Swiss border, has succeeded. A bet won within a year, a case of innovative entrepreneurship that focuses on young talent. To understand why investing in young people can reserve wonderful surprises, we interviewed Luca Di Pierro, one of the four founders of Fabbrica campus and contemporary Trattoria.
How and when was Fabbrica born? 
"We have four members: besides me, there are Milva Bernasconi, Luca Bernasconi, and Stefano Giusto. We started working on it in 2016. The idea was to create a space for contemporary work in what had been a workplace of the past, a former cotton mill. We chose a small town in the hinterland outside Milan because we wanted to propose a different approach to work. We embrace the philosophy of co-working and the creative community, but without the stress of the city, as the golden spot and offering great flexibility."
Where does what come from?
"Yes, we thought that a restaurant could be a point of reference for Fabbrica and the people around it. But we didn't want to make a simple cafeteria. Our philosophy is that beauty generates beauty and so we thought of a restaurant that was young dynamic and innovative, but also of high quality. From this intuition was born contemporary Trattoria."
And it was immediately a success...
"We opened in November 2021 and a year later came the news of the first star awarded by the MICHELIN Guide. The thing that gives us the most satisfaction is that it was our chef Davide Marzullo who got it, who is 26 years old. He was discovered by the Chef Academy of Cannavacciuolo who leads a brigade of peers. I believe that investing in young people means giving them the opportunity to prove themselves by showing what they can do. In them we saw talent, heart, energy and the desire to express a new and courageous cuisine, without dogmas, and they did not delay in proving it."
What kind of cuisine is proposed?
"We have defined it as an instinctive cuisine, because professionalism and research is combined with a contemporary taste and the desire to propose new combinations."
But can co-workers also afford starry meals?
"There is a tasting menu for gourmets, but at lunch there are offers that allow you to spend the right price to eat quality dishes in an environment of great charm."
Back to Fabbrica, who works there?
"We are in Lomazzo, in the province of Como, overlooking the science and technology park and with the motorway to Como, Lugano, Varese and Milan a stone's throw away. We were born as a campus spread over 1,500 square meters and offer different solutions. You can rent a private office, or a desk in an open space; we offer formulas that can go from rent by the hour to that of years. This is why the workers of Fabbrica are the most varied. There are multinationals renting out offices but also freelancers. There are creative types and financial workers. We also have start-ups like Indi, of which I am co-founder and which proposes a new approach to the discovery of territories by tourists, with the eye of those who live there. In Fabbrica there are those who stop passing between a trip to America and the other and those who participate in our Storming Pizza."
What are they?
"About once a month we organize evenings with the co-workers of Fabbrica. A pizza together and a little sharing of ideas, we do networking. The goal of Fabbrica is to live and work better. For us it means disrupting the usual rhythms and balances to seek new synergies, the result of meeting and confrontation with different professionals and talents."
And what's the answer?
"We have a total of 150 workstations. The offices are fully booked and we have a 50% occupancy rate for co-working stations. It is a good result, because it is quite physiological that there are desks rented only for short periods, by those who are in the area of passage for work." 
You rely a lot on flexibility.
"Yes, our co-workers have a badge that gives them 24-hour access to the facility."
You are one of the members and directors of Fabbrica, but also the owner of companies that operate within it. Can you reconcile the two dimensions? 
"I have to say that it is very challenging to manage such a reality and operate within it too, but I am of an enthusiastic nature and the satisfactions are coming more and more; our message begins to be understood, especially the idea of networking. For example, during an evening Storming Pizza the idea of a podcast by Fabbrica was born, as one of the co-workers is a podcast producer."
You are a creative and advertising man, said in a slogan, what is Factory?
"A different place. A place for the brave."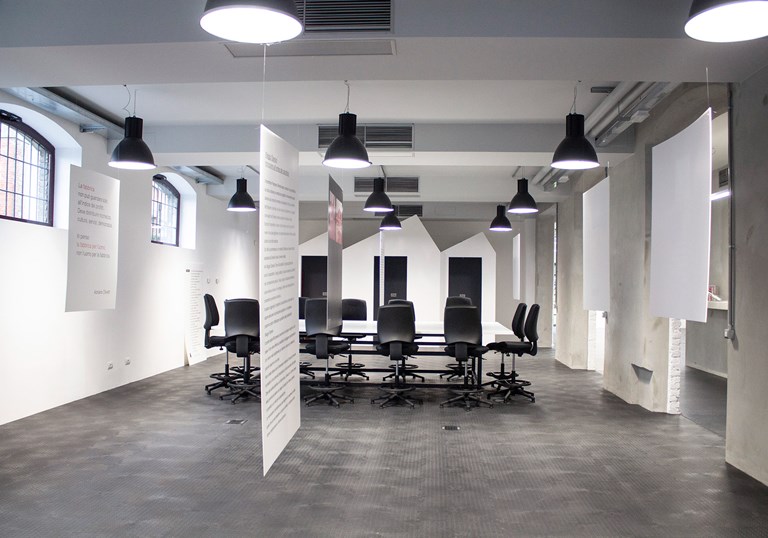 Luca Di Pierro
Year of birth: 1983
Profession: entrepreneur and advertising
Di Pierro is a creative director, publicist and expert in communication and brand strategy. Co-founder and communications manager of Trattoria contemporanea and Fabbrica, CEO of Zero., Uno Studio, Spaziobianco, Winestorming and Indi.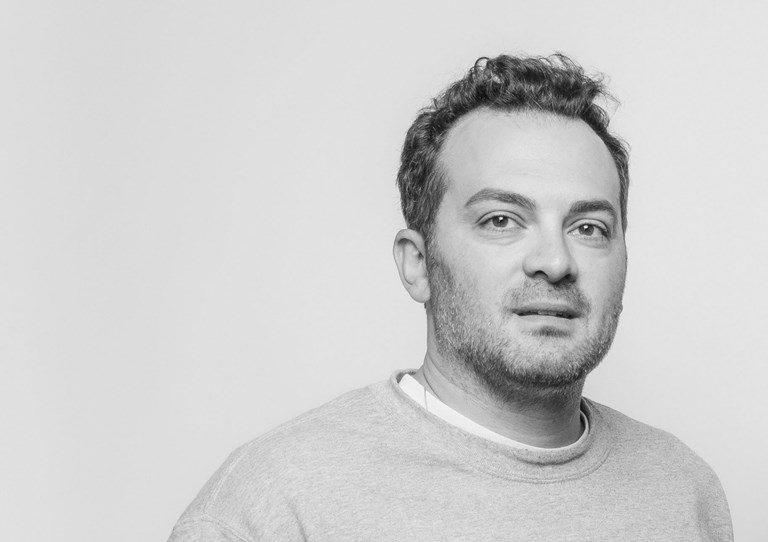 YOUNG PEOPLE IN THE KITCHEN
The brigade of Trattoria contemporanea is made up of a very young team: the average age is 24. It is led by Chef Davide Marzullo, 26 years of age. After experience in noble kitchens around the world, including the Hibiscus restaurant and The Connaught in London, The Market Place in Como and Noma in Copenhagen. In 2019, he participated in Antonino Chef Academy, and won the programme and a work experience at Villa Crespi, alongside Chef Cannavacciuolo. The Sous Chefs are Andrea Noto, linked to simple and traditional Italian flavours, and Christian Malatacca, of Venetian and Calabrian origin contaminated by French recipes and tastes, The Pastry Chef is Elena Orizio.