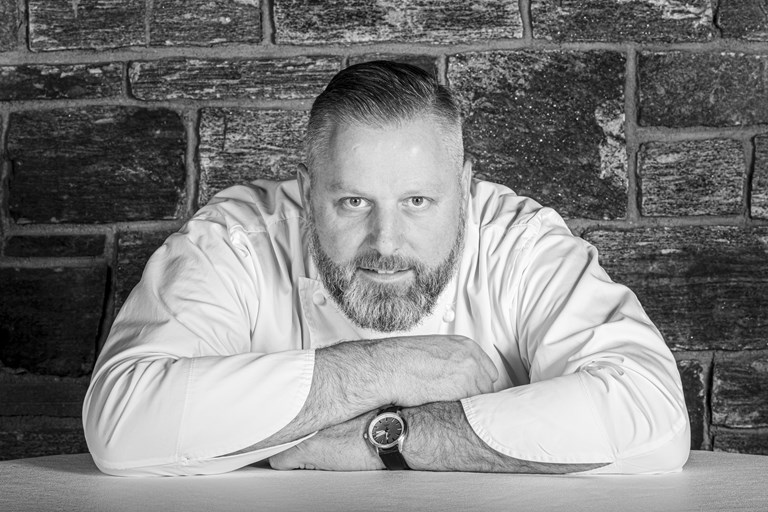 Those born at the foot of the Alps associate autumn with the smell of fireplaces, steaming cauldrons, toasts with a glass of red wine and the chatter of hunters at the table telling of their latest catch. But it takes skilled cooking skills to transform venison into succulent dishes. An art that is rooted in tradition and that is preserved and handed down at family level, even by those who have worn the chef's hat in renowned hotels with a wealthy international clientele, but then wanted to bring innovation to the family restaurant, without forgetting the lesson of the territory.
For many, it is the memory of a well-known face from the small screen, a main dish to be served on TV. He is Alan Rosa and his Groven in Lostallo is a reference point for those who want to delight in tasty and refined dishes and above all don't want to go wrong when it comes to game. In Bistrôt he tells of his work horses,
from the saddle of chamois to the ibex dinner.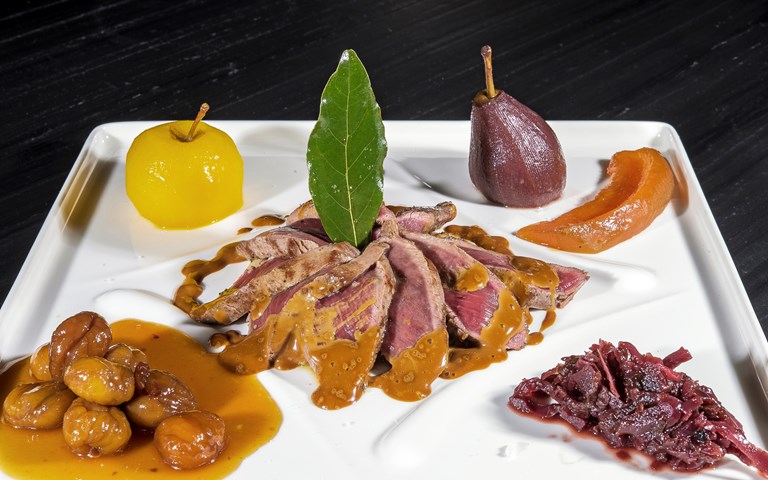 Chef, let's start from when you were wearing short trousers, you grew up in the kitchen...
"Yes, at Groven, my grandmother Maria was in the kitchen, then my father Giacomo inherited it and now there's me. I've always had a passion for being in the kitchen, ever since I was a boy. It was natural for me to go to hotel management school." 
But then, for the apprenticeship, the scenery changed, no longer the family kitchen, but the lights of the grand hotel.
"Yes, I went to the Palace in St. Moritz. One of the most renowned hotels in the world, with an exclusive and international clientele. I learnt to work in a brigade, to cook everything, because there, the client's every wish had to be catered for, at all times."
There was no shortage of star experiences.
"Yes, I was in Küsnacht at the Rico's of chef Rico Zandonella, two Michelin stars. A great master from whom I learnt how to innovate while respecting and enhancing the raw materials."
Finally, the return to Mesolcina.
"Yes, in 2006 I returned to the Groven to propose my idea of cuisine. Today those who come to Lostallo know what they are getting, it's not the menu that matters, but the way the dishes are presented."
In the mid-2000s, he was one of the first chefs to appear on cooking shows, which then became very popular.
"Without a doubt, television was certainly an experience that made me popular and helped to communicate my own identity. There are many pros and also some cons. When I tried to get a young chef to work alongside me, the customers, when they saw me outside the kitchen, had the prejudice that it wasn't me who cooked and therefore the dishes weren't perfect. So in the end I went back behind the cooker. Becoming a character means that customers come to the restaurant not only for the dishes, but also because they know that you cook them."
What is your ideal menu?
"Let's say that autumn is the most popular time for us, because we offer our game meat dishes. At other times of the year there is often no menu, I set the menu according to the best products I find on the market, or I ask the customer if he has any preferences. I like a cuisine that also follows instinct, that is the result of conviviality, not just of exasperated research."
Tradition or innovation?
"When I reintroduce traditional recipes, it's not to lighten them up but to make them the way they used to be made. While those I create have an eye that looks to the territory, but also one that respects contemporary cooking and processing methods that combine taste with lightness."
Let's come to the signature dish: venison. 
"The saddle of roe deer. Here we mainly source our supplies from game meat reserves in Austria and Germany."
Are there not enough roe deer in Mesolcina?
"Yes, it is impossible for locally hunted roe deer to meet all the demands of the Moesana restaurant industry."
Chamois and deer?
"In this case they come mainly from the Mesolcina and the Poschiavo valley."
Should game always be marinated?
"It depends on the cut and the recipe. For a saddle of roe deer it is not necessary. For jugged chamois, on the other hand, marinating in wine is necessary."
Do you also offer special game?
"Yes, when hunters bring them in we also have marmots and ibex. The ibex comes from selective hunting. The hunter can take two. Usually one he keeps for himself and the other he gives away. Sometimes it is a male, sometimes a female. Sometimes it is 3-4 years old, sometimes 8 years old. This has a big impact on the taste of the meat."
When can you eat ibex?
"We normally serve one dinner a year, all based on ibex. There are 10-12 courses: carpaccio, tartare, first courses, main courses: ossobuco, braised beef, saltimbocca, and so on. It's a particular meat, which in some cuts, such as rump, is reminiscent of beef in consistency and colour. The main thing is to clean the animal properly after slaughtering."
What does this mean?
"First of all, when you shoot game, it can suffer trauma from the fall, for example if it is shot on a rock and falls down and this can affect the quality of the meat. Also, I give the example of the marmot; if instead of shooting the head, you shoot the body, there's not much left to eat once it's clean. The most important thing, however, is that the animal is immediately cleaned of its innards in the correct way, otherwise its preservation and flavour is compromised. In short, there are many factors that play a role in the taste of a venison dish. That's why the starting material is fundamental for excellent dishes."
What do we drink with a game dish?
"Definitely full-bodied reds, an aged Merlot would be great. With certain raw dishes such as carpaccio, a structured white wine would also be good. Then there are also those who drink Barolo with fish. I don't recommend it."
Strangest request from a customer?
"I don't usually get any because people who come to Groven know what we offer. There are also vegetarians who come to try our range of side dishes and then maybe they'll add a slice of cheese instead of venison. But I remember once at the palace, where they said they always had to please the customer, a group from, I don't know which country, came asking for dog food. We told them that this was not possible in Switzerland."
Will the family tradition continue?
"My son is 16, he loves to eat well, but he told me he doesn't see himself in front of the cooker. But who knows. Maybe in 10 years he will change his mind or not. The world changes very quickly! 
It's true, tastes are always changing, but we are sure that even if we went to Mars, we would hardly forget the memory of the scent of Groven's jugged chamois."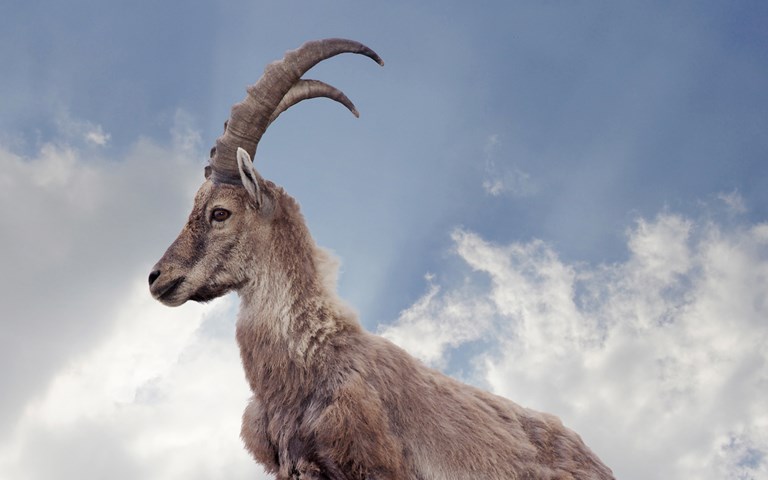 Ibex, a delicacy for over 5,000 years
Do you know what the last meal of Ötzi, the Similaun mummy found in 1991 on the Schnalstal valley glacier and who lived around 5,300 years ago, was? Ibex speck. This was revealed in a study conducted by mummy expert Albert Zink and his colleagues at the Eurac in Bolzano, who analysed the nano-structure of meat eaten by Copper Age man, comparing it with various types of meat and processing. The presence of fibres in the mummified food leads to the assumption that it was raw and dried meat, as the fibres are lost when cooked. 
Ötzi therefore ate the dried meat of ibex, which may have been hunted with a bow similar to the one found next to the mummy. In his stomach were also remains of ferns, deer meat and spelt. Researchers think that his diet was not a glutton's choice, however, but a high-fat diet to cope with the days spent at altitude, although it is not yet clear what work he did.
Ibex hunting
In Graubünden, hunters who wish to participate in the selective ibex hunt must register at the beginning of April by filling out a registration form. As a rule, hunters who have registered are informed around 10 June whether they have been selected and can therefore participate in that year's hunt. Then, hunters who have been selected must attend a compulsory course in mid-August. 
Ibex hunting takes place in the period from 1 October to 15 November. It lasts for each hunter a maximum of 20 days. There are exceptions for particular colonies. The costs are 200 francs for the licence and between 160 and 660 francs for the cull. Young Ibex to be hunted are allocated to the youngest hunters, the oldest to the oldest.
CHF 200.00 for the basic fee (licence). Ibex hunting "requires a great deal in terms of ability to move in high mountains, stamina, evaluation of the game and shooting skills."
Alan Rosa
Year of birth: 1975
Profession: chef
He grew up in the family restaurant in Lostallo. After experiences in grand hotels and starred kitchens, he returned to Groven to offer his cuisine based on tradition interpreted in a contemporary way. For several years, he was a well-known face on TV, participating in the programme Cuochi d'artificio.