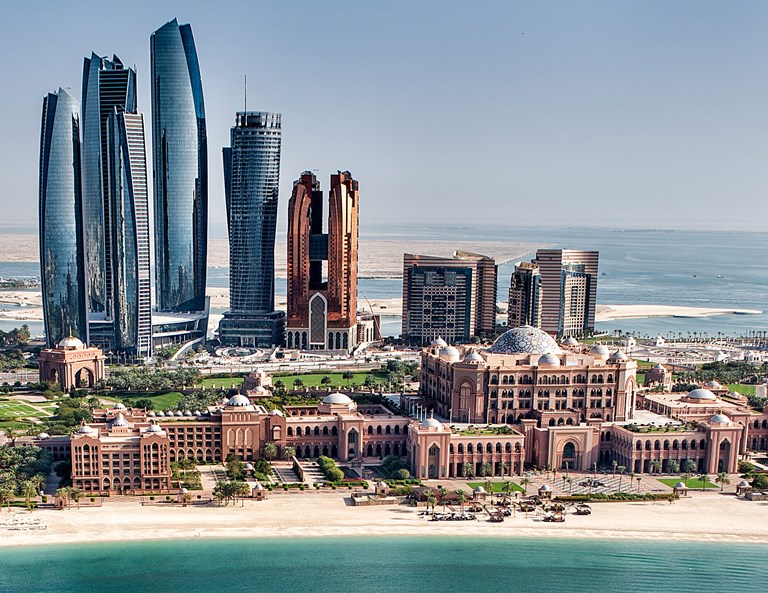 On the saddle with the Emirates
Dubai and Abu Dhabi are two examples of cities that have grown rapidly in recent years, with impressive buildings, not only in terms of height (Dubai is home to the Burj Khalifa, the world's tallest skyscraper: 828 metres) but also for the technological solutions adopted. For the future, the United Arab Emirates also want to combine urban development with the quest for sustainability: creation of parks, nature reserves, green lungs, biodiversity. A demanding challenge, considering that the population is destined to grow even further, and it will be necessary to ensure easy interconnections, eco-friendly transport and cutting-edge, ultra-fast technological infrastructures capable of satisfying digital nomads, increasingly demanding tourists and a population that desires a contemporary lifestyle. Cycling is playing an important role in this direction. In recent years, both new and former neighborhoods have seen the creation of cycle paths. Cycling is seen as a healthy and environmentally friendly practice to be encouraged. To communicate this message and push people even more into the saddle, 2017 saw the birth of UAE Team Emirates, the country's first professional cycling team, which in the space of a few years has managed to become one of the strongest international formations, creating a 'pull' effect on the population that identifies with the successes of the national colours. To talk to us about innovation through pedals, we interviewed the president and CEO of UAE Team Emirates.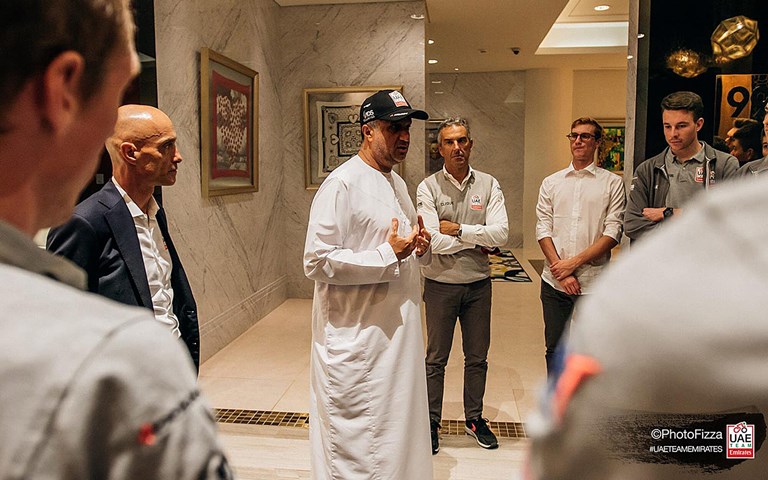 Matar Suhail Al Yabhoiuni Al Dhaheri is a businessman who invests and directs in numerous companies, but he is also a sports enthusiast and the first president of UAE Team Emirates.
What has been your approach to cycling? 
"We think cycling should be for everyone: children, young people, the elderly, for families. It is a healthy sport that promotes a healthy lifestyle, and it is a type of exercise that is suitable for everyone."
Have you invested in facilitating cycling?
"In Abu Dhabi, we made sure there were all the facilities and everything you need to do good cycling, safely, but also offering opportunities for entertainment, in the sense of fully enjoying the sport of cycling."
Are there different routes?
"Yes, in Abu Dhabi there is everything you need, there are wonderful undulating routes, both for off road and road cycling."
Has the team served to encourage cycling?
"There is great interest in Team Emirates. We started 6 or 7 years ago and we are continuing to grow. To do this we provide the best facilities and offer support in everything to achieve new results. This leads to promoting the vision of cycling as a healthy sport."
The successes have come. The secret?
"In the beginning, the results were not immediately good, then we gradually worked on the team. Today we have achieved very good results, with which we are very satisfied. This was possible thanks to the champions who joined the team and to having invested in promising young people."
If a team already on the professional circuit like the former Lampre has been able to continue its activities under the colours of the UAE, great credit goes to Mauro Gianetti, a former professional cyclist, coach, and then mediator in creating the new cycling association on the shores of the Persian Gulf.
What differences in approach to innovation between the Emirates and Switzerland, and more generally the European world, have you found?
"Cycling is a very good example to understand the mentality with which people think about innovation in the Emirates. They discovered cycling six or seven years ago, but once they realized its value and decided to invest in it, they accelerated. This is their typical approach, if something new is needed, then it has to take priority. So, they invested immediately in new routes for slow mobility because it means promoting health and well-being and reducing traffic and pollution. New residential neighborhoods are already being created with child-friendly paths, and even existing ones are seeing changes to accommodate cycle paths."
So, the team came later?
"Yes, the aim is to promote health and well-being through sport. The team was a consequence, a tool that acted as a vector and amplifier."
When you achieve prestigious successes in a short time, how do you continue to motivate athletes to improve?
"We have the goal of being the best team in the world and it is important to share this vision with all the staff. Emirates wants excellence in everything they do. Everyone has to give their best."
What has changed in cycling in recent years?
"In the last 15-20 years it has become a global sport. Before it was a European phenomenon with a few Americans and Colombians. Now talent is born in Australia, in Africa, in China. The bike industry has increased sales tenfold in ten years. The Tour de France and Giro d'Italia are followed live from 190 countries. Of course, it will be increasingly difficult to find great talent in Europe and the level is so high that even if you have the best rider in the world you have to make choices. He can't do every race even if he could win them all."
Mauro Gianetti
Year of birth: 1964
Profession: Team Principal and CEO UAE Team Emirates
He was a professional cyclist from 1986 to 2002 and was a silver medalist at the 1996 World Championships in Lugano (the city where he was born).  In 2017 he was the mediator between the former Lampre team and the new UAE management. He's Team Principal and CEO of UAE Team Emirates.