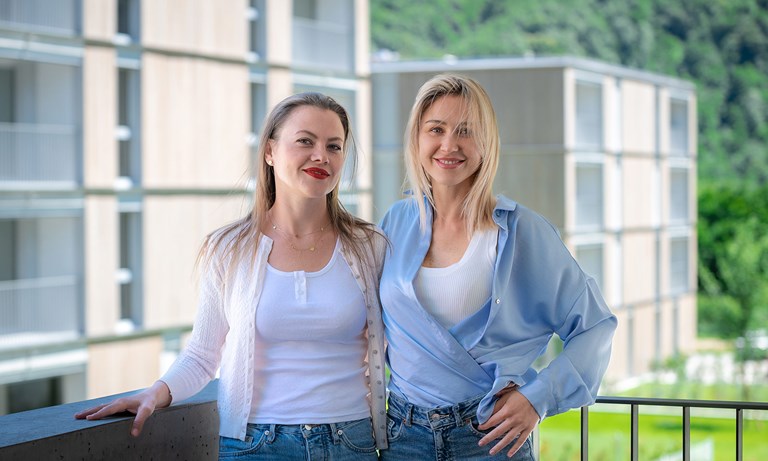 They had been classmates in middle school, then the paths of their lives diverged. One had stayed in the city, the other had moved 360 kilometres away. For over twenty years, they had not seen each other again. In the spring of this year, they found each other by chance 2,000 km from their homes in Switzerland. Had they been on holiday, we could speak of a curious anecdote, but their journey to the Swiss Confederation was not one of pleasure. They are Alona and Tetiana, they have their children with them and left their husbands in Ukraine. They have fled the war. We interviewed them to understand what it means to see everyday certainties dissolved overnight.
When did you arrive in Switzerland?
Tetiana: "On 24th of February after the first bombings, I decided to take my two daugh-ters and my mother and we reached Hungary. From there we flew to Switzerland at the be-ginning of March. My husband stayed in Ukraine, all males between 18 and 60 must stay there to defend the country."
Alona: "I arrived in Switzerland on 2nd of April, after a car journey through Eastern Europe. With me were my two children, one of them a few months old, my sister Irina and my sis-ter-in-law. Our husbands also stayed in Ukraine."
How did you find accommodation?
Tetiana: "I already knew the Lugano area because I have Italian friends who live there. I love Italian culture very much and I had studied a bit of Italian at university, so I can speak it well enough. I also studied as a translator, but in Ukraine I worked in a beauty salon. An-yway, a volunteer called Olga put me in touch with Andrea Galli, telling me that he was providing accommodation for Ukrainian refugees and so I found myself in Roveredo."
Alona: "Through the volunteers who look after us Ukrainians in Switzerland, after an ini-tial makeshift accommodation, I found accommodation in Giubiasco thanks to Andrea Galli. For us it is a very good solution, we have adequate space as we are three families with children."
You already knew each other but hadn't seen each other for decades. How did you meet and recognise each other?
Tetiana: "We were both from Kryvyj Rih, a town in southern Ukraine and had been classmates in secondary school. Then I had chosen to continue my studies in Kharkiv, which is in the east, close to the Russian border. So the last time we saw each other we were about 12 years old and it has been 22 years. After arriving in Switzerland, one day Andrea Galli tells me to accompany him to meet the new Ukrainian families housed in his accommodation, in case we need to speak Ukrainian or Russian. We arrive in Giubiasco and meet Irina, Alona's younger sister."
Alona: "I had gone to the supermarket. When I came back, we started talking to each oth-er. We told each other our first and last names, where we were from, and we knew that we had been schoolmates when we were teenagers."
Besides your affections, what do you miss most about Ukraine?
Tetiana: "Well, I used to work in a beauty salon and it was no problem to get a manicure or a beauty treatment, here on the other hand taking care of the aesthetic side is very expensive."
Alona: "I only miss my husband. There are videocalls, but I wish we were together, espe-cially to see our daughter grow up. She's only a few months old."
Did you expect the Russian attack?
Tetiana: "No, we couldn't believe it. Friends from Europe and America in the days and months before called me alarmed, but what is going to happen, they asked me. They seemed to be exaggerating. Instead..."
Alona: "Yes, it's true, it was hard to believe it could happen."
How do you imagine your future?
Tetiana: "It's difficult. Even if there is a truce or peace, there will still be a broken country. Our cities were not occupied by the Russians, but they were bombed, some people lived for days in the underground. In any case, as long as husbands are forced to stay in Ukraine, it's difficult to make choices."
Alona: "Yes, everything is still too uncertain now. My husband works in construction. I too trained as a civil engineer, although I then worked in consulting services. Some eco-nomic sectors are blocked, as long as there are bombings it is difficult to think about the future."
How are you settling in Switzerland?
Tetiana: "The welcome has been fantastic. We have found people with hearts of gold. Everyone is doing so much for us. It's really incredible the solidarity we've found."
Alona: "Tetiana already speaks Italian. I don't. But thanks to Letizia, Andrea Galli's sister, Italian courses have been organized at the Bistrôt in Grono. There are about ten Ukrainian families from the area taking part."
The interview comes to an end. Alona takes her leave, Tetiana says goodbye and calls her youngest daughter: Ariana. She is four years old, big sparkling eyes and keeps repeating the name of the Minnie doll she is holding. Sometimes you don't need big speeches to know what is right, all it takes is the encounter with the gaze of an innocent.