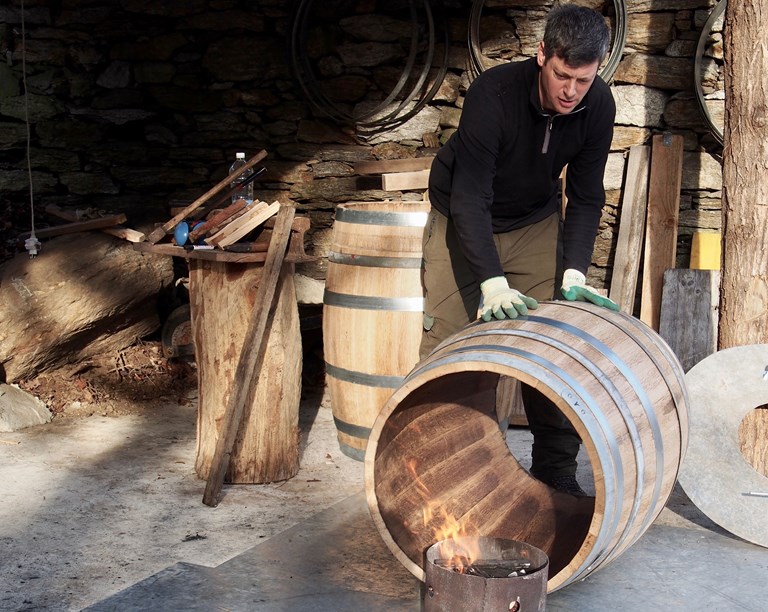 The wine that has aromas of the Ticino woods
A popular saying is that good wine comes in small barrels. But rather than the dimensions, it is the quality that matters in Lumino, where the preference is for the wine to be refined with the aromas of the Ticino woods. The result is a wine that tastes of terroir from grape to barrel. All credit to Davide Biondina, who decided that it wasn't enough just to be a skilled grower of vines and expert winemaker, but also an experienced barrel maker. We interviewed him.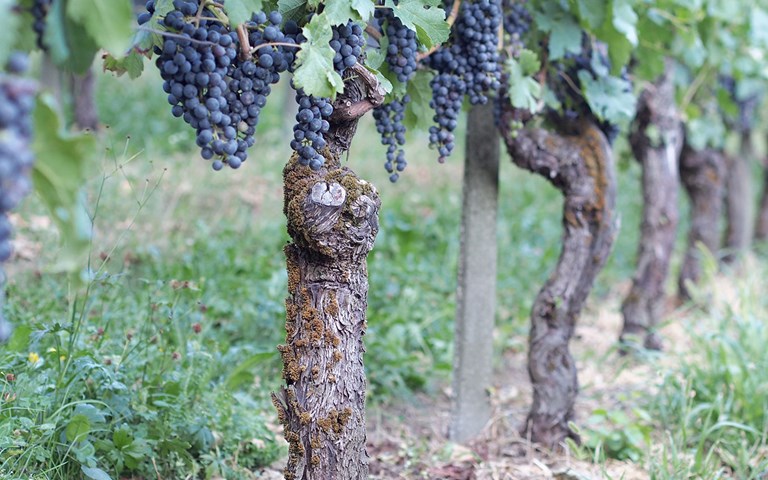 You run the Terre d'Autunno Vineyard and Winery with your wife, Rahel Kuhn. When did you get a passion for vines?
"It's a family tradition. I grew up watching my parents cultivate vines in Monticello and Lumino. Ever since my childhood I have always been in involved in grapes and winemaking, and I am lucky to be able to share this passion with my wife".
So, did the passion for barrique barrels come later?
"Yes, it's a characteristic of our winery that that we have introduced over the years, when we decided that our wine should have a 100% local taste".
So presumably you use local wood, do you?
"Yes, ours is a zero-kilometer wine. We select the tree and cut it, wait 36 months to complete the drying and seasoning process, and then we craft the barrique barrel. At this point we need to toast it by placing a brazier inside the barrel".
A long, laborious process. How many barrique barrels do you produce?
"About 10 a year".
And how long does a barrel last?
"We change them every 3 years".
Do you need a specific type of wood?
"Oak is the best wood. We have also tried larch or chestnut, as they are typical local trees, but they don't offer the same guarantees as oak wood does".
How large are the barrique barrels?
"Classic French barriques contain 225 liters, but the ones we produce hold 300 liters. This is a deliberate winemaker's choice, in order for the oak to impart a more delicate flavor to the wine".
You have to fill them though. What type of grape do you grow?
"The vast majority are Merlot grapes. This is a variety that has acclimatized well in Ticino over many years, and produces a good wine, and this year again we have had a few of our labels win awards at a national level. Nowadays Ticino Merlot is well known and identifiable. However, we would like to try growing new varieties. You need to experiment to see if a grape is suited to the area, and if it can produce good wine. For example, we have just recently planted the white-grape variety Sauvignac, which is particularly disease resistant and hardy. It can produce well-structured white wines (like Riesling, editor's note)".
How did the 2020 harvest go?
"I have to say that in general it was an excellent vintage, one of the best in the last decade. We can already start drinking the whites in Spring. The reds however will be barrique aged for 12 months, to be then refined in the bottle, so overall it takes a few years from harvest to market. Reserve reds however are barrique aged for two years".
When is the best time to open Reserve red wines?
"I would say after 5-7 years".
How many labels do you have?
"Seven. Five red and two white. The whites are a Bianco di Merlot and a pure Viognier. Then we have three pure Merlots: "Alessio", "Riserva del Bottaio" and "Rivivo". This last one is aged in barrels made of sessile oak from the Monte Verità Foundation Park, Ascona. "Questo" on the other hand, is a Merlot with a small percentage of Cabernet Sauvignon. We co-produce it with the Mondò winery in Sementina. Finally we have "249", which is the only wine not originating from local Ticino grapes. This Barbera d'Asti is produced in collaboration with the historic Coppo wine cellars of Piedmont and is aged in our barrels of Ticino sessile oak stored in the wonderful "underground cathedrals" of Canelli".
How do your particular wines take shape?
"We make wines from the single varieties of each vineyard, then only afterwards consider our options to barrique age them". 
Has the wine industry suffered as a result of the pandemic?
"We have managed quite well despite everything. As well as our local client base, including restaurants and grottos, we are seeing an increase in online purchases, also from a clientele beyond the Gotthard".
It's time to sit down and eat. Which dishes combine well with your wines?
"Fresh and fruity Alessio would be excellent to accompany a platter of cured meats, a typical dish of our valleys. To stay with our local culinary specialties, a reserve Merlot goes well with polenta and stew. I would combine a Viognier with cheeses that are herby or slightly piquant with chili or pepper". 
One last question – does a wine grower have a rest in winter?
"Not really. After the grape harvest we have vinification, followed by pruning, then it's the arrival of Spring and bottling. There is always something to do". 
Thus, Biondina bids us a quick farewell and rushes off to his next appointment. Wine doesn't make itself, commitment and wisdom are required, but through the words of this wine producer, the enthusiasm and passion he conveys, we understand that this activity can be enormously satisfying.
Soundtrack